FEATURES
Inside Sears think[box]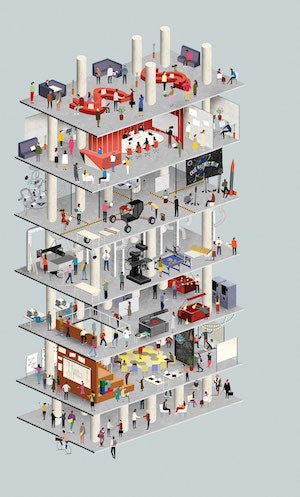 IMAGE: Adam Simpson
Welcome to the Larry Sears and Sally Zlotnick Sears think[box], an innovation center open to the campus community and the public, and a focal point of Case Western Reserve's entrepreneurial and innovation ecosystem.
Its popularity in Cleveland and beyond has led its executive director, Malcolm Cooke, PhD (GRS '04, mechanical engineering), an associate professor in the Department of Mechanical and Aerospace Engineering, to think broadly about the brand.
One of our hopes is that we'll actually develop a new verb, called 'think[boxing],' " he said, adding that the term doesn't only include tinkering and making. "It's all-encompassing and includes our ecosystem, which promotes and supports innovation and entrepreneurship."
Look inside our illustration of the space, where inventors can advance floor by floor, from producing ideas to creating a product to incorporating a company—or take advantage of opportunities to work in just one area.
We suggest you read from the bottom up.
7th floor: Incubator
(Veale Institute for Innovation and Entrepreneurship)
Early-stage companies share workspaces and network with other entrepreneurs. Includes residency space for established companies that can have serendipitous conversations with startups launched by university students, faculty and staff.
6th floor: Entrepreneurship
(Cray Center for Venture Creation and the Burton D. Morgan Suite for Entrepreneurship)
Where entrepreneurs seek assistance and advice. Experts in residence include CWRU LaunchNET, the university's Technology Transfer Office and the IP Venture Clinic, which provides legal help.
5th floor: Project Space
(Eric T. Nord Project Space Floor)
Dedicated workspaces are occupied and managed by student competition teams: Mini Baja for building off-road vehicles, Case Aeronautics Team for designing, building and testing model aircraft and drones, plus the Case Rocketry Club and the CWRUbotix robotics team.
4th floor: Fabrication
(The Lubrizol Foundation and Kent H. Smith and Kelvin Smith Fabrication Floor)
Time to go from prototype to product. This is where you'll weld, drill, cut, grind and more, using top-of-the-line equipment. It also includes a woodworking shop.
3rd floor: Prototyping
(Prentke Romich Floor)
From laser cutters to a PolyJet 3D printer to an eight-head embroidery machine, this floor has what you need to bring form to your idea.
2nd floor: Collaboration and Ideation
(Wyant Collaboration Floor)
Where thinkers can meet up. Includes multimedia work centers; presentation spaces; funky, configurable furniture; and the ultimate bringer-together, a pizza ATM.
1st floor: Community
(Nottingham Spirk Floor)
The only floor yet to open. It is slated to be used for community activities. The design is underway, and the space likely will open by the end of next year.
Making it Possible
The original think[box] started in 2012 in the basement of a campus building, before expanding in 2015. The $35 million transformation of the seven-story Lincoln Storage building into the Larry Sears and Sally Zlotnick Sears think[box] in the Richey Mixon Building happened because of donors including the Searses, the late J.B. Richey—all three alumni—A. Malachi Mixon and the Burton D. Morgan Foundation.
Sears think[box] by the Numbers
10.1 million+

in sales, grants and investments collectively raised by student startups using the innovation center and CWRU LaunchNET*

29

3D printers

2800+

people trained and earned "ability badges" to use certain machines

$2 million+

in equipment

50,000

square feet of resources for creating and entrepreneurial ventures on 7 floors

100+

student ventures fostered by the center and CWRU LaunchNET

188

projects funded through the Sears think[box] student project fund*

77,000+

visits by more than 5,000 unique users—with 20 percent coming from the general public—during the last academic year
*Since late 2012