LENS
A Tweet Sent Out to the Universe
How an MBA student snagged an Apple executive as her mentor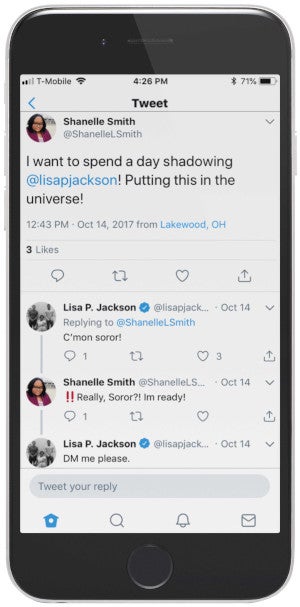 Inspiration struck MBA student Shanelle Smith as she ran errands on a seemingly unremarkable Saturday morning: She'd tweet at one of her heroes, Lisa Jackson, vice president of environment, policy and social initiatives for Apple Inc.
At 10:43 a.m., Smith—a student at Case Western Reserve's Weatherhead School of Management—wrote a 76-character missive expressing her desire to shadow Jackson.
Waking up from a nap about three hours later, Smith discovered that not only had Jackson responded, she also had invited Smith, a Delta Sigma Theta sorority sister, to Apple's headquarters.
"I was just, like, screaming and yelling," said Smith, who flew to California four months later.
She spent time with Jackson— who led the U.S. Environmental Protection Agency from 2009 to 2013—toured Apple's headquarters and even met CEO Tim Cook.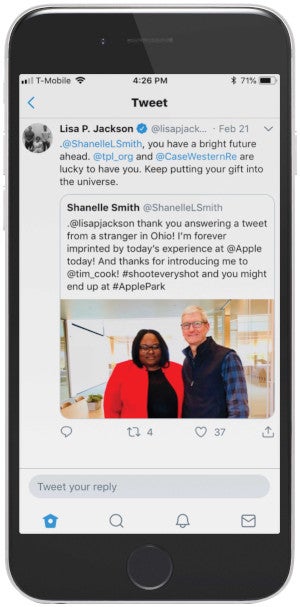 "Every moment was memorable," said Smith, who was drawn to Jackson because of her environmental work.
In addition to being a full-time MBA student, Smith is Ohio director of the Trust for Public Land, which creates, maintains and improves public lands and parks. And she's leading efforts such as an initiative to ensure that all Ohioans live within a 10-minute walk of a high-quality park.
Smith's determination inspired Jackson to become her mentor and nominate her for the Grist 50, an online listing that recognizes young people working to fix global problems.
"Shanelle is passionate, driven and smart," Jackson wrote in her winning nomination. "She will be a force, and I'm glad she will be on our side."
Meanwhile, Smith already knows who she'd like to tweet at next: "Barack and Michelle Obama; those two would be really amazing."