lens
What the Doctor Ordered
Ted Parran is re-educating physicians who may have helped fuel the opioid epidemic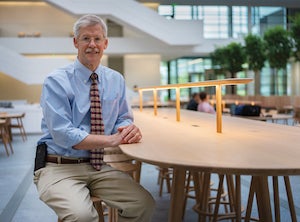 PHOTO: Michael F. McElroy
For as long as the opioid crisis has dominated headlines, the question of who's to blame has festered. Ted Parran Jr., MD (MED '82), the Isabel and Carter Wang Professor and chair in medical education at Case Western Reserve's School of Medicine, believes physicians who prescribe in excess are among those responsible.
Since 1994, he has spearheaded a three-day course on prescribing opioids that's been attended by 3,500 prescribers from across North America—80% of whom have overprescribed and been sanctioned by state or provincial medical boards. He also teaches a version of the class to fourth-year medical students at the university.
Think talked with Parran about his push to educate, and re-educate, white coats, present and future.*
Who is in your prescriber class?
Twenty percent are regular prescribers who just sign up because they are interested in the topic or worried, while 80% are problematic prescribers—physicians, physician assistants and nurse practitioners who've gotten in trouble and are mandated to attend by licensure boards. They've basically been told, 'Go take this course, or we may need to take away your license.' Ten percent of these problematic prescribers also have an addiction issue themselves.
Why are they overprescribing?
A fair number of clinicians just have this lack of ability to say 'no' and mean it. They say 'no,' and the patient says, 'Doc! You're my best doc!' or 'Ya know, I've got to get this pain med and I know you won't just cut me off ,' or 'If I don't get it from you, I'm going to get heroin from the streets,' or 'If I overdose, that's all your fault.' And the doc says, 'Oh, OK, maybe just this time,' and the pattern continues.
Fourth-year students will deal with this?
Oh, they see it all the time as students, and will all have to deal with it in a few short weeks to months when they are in residency. In addition to clinical exposure, 20% or more may have been raised in an addictive family. That is the data for all families in America, whether you're eating dinner tonight in a wealthy suburb or in an inner-city neighborhood.
You were on the frontlines of the 1980s cocaine epidemic as associate medical director of the detox unit at Baltimore City Hospital. How's that similar?
For one, the cocaine epidemic was identical to our current opioid epidemic in nearly every way except the death rate. If a patient overdoses on cocaine, they get chest pain and paranoia. An overdose on opioids is often fatal. The bottom line is, if [as a physician] you learn about the disease of addiction like you learn about the disease of heart failure, then you can see it. You can find it, just like you can find heart failure. If you find it, you can treat it.
Have you ever taken opiates?
Never for longer than a day and a half. They can ease acute pain but just make you feel goofy … sort of squirrelly.
So, we have better prepared students and residents. What happens then?
Students are really just starting to learn this stuff. Unfortunately, organized medical education outside of med school isn't really carrying the water. Early data from a survey we are conducting indicates that up to 80% of teaching hospitals don't have even one board-certified addiction specialist on staff. That's like trying to teach cardiology at a hospital that doesn't have a single cardiologist, and then wondering why residents don't practice cardiology well in their clinics.
— Mark Oprea
*This conversation was edited for length.