lens
Water Watcher
Developing tools to identify, treat new contaminants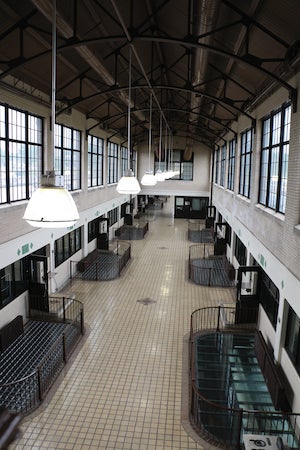 PHOTO: Courtesy of City of Cleveland Baldwin Water Treatment Plant
Huichun (Judy) Zhang, PhD, is on a mission to make sure we're protected from 80,000 known chemicals that potentially could contaminate any given drop of drinking water.
That may sound like an impossible task, but here's why it isn't as daunting to Zhang: chemistry.
"It is impossible to track all 80,000, but we can figure out on a molecular, structural level how to treat for a chemical in a certain category and then apply that to similar chemicals," said Zhang, an associate professor of civil engineering at Case Western Reserve. "This even applies to chemical combinations before they are added into [electronics and other] products, which could really help officials know what to do before [these combinations] enter into the water as waste."
Zhang's research, supported with $1.1 million in National Science Foundation grants, focuses on finding, eliminating or predicting the presence of water-borne contaminants.
She shares results with federal environmental agencies, which then help water-treatment facilities test and treat for pesticides, herbicides, lead, toxic algae or emerging contaminants such as those in fire retardants and pharmaceutical compounds.
Regulators also use her research when new materials or products come to market to assess whether drinking water needs monitoring and regulating for new compounds related to the chemicals she has already identified as dangerous.
"Where do they end up? That's the key question," she said. "Do [the chemicals] just sit there, or break down to be taken up by plants and find their way into the food chain—and eventually into us?"
Zhang said most American water-treatment facilities "do a fantastic job," but increasingly sophisticated testing is revealing a wider range of existing and new chemicals.
So, she recommends using a carbon-based water filter before you drink if there is any concern about the quality of the water. "I even boil my drinking water whenever I can," she said. "We only know what we know, not what we don't know—so better to be safe."