Allyson Krupar
// Social Change Agent // CWR '07 // 28 //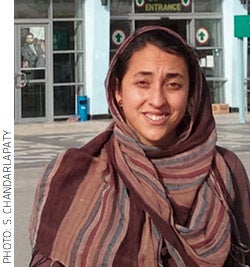 Allyson Krupar doesn't shy away from conflict. In fact, she is drawn to it.
Since graduating from Case Western Reserve in 2007, Krupar has been educating youths and adults in the war-torn countries of Liberia, Egypt, Uganda and Afghanistan.
"I prefer to focus on places that are coming out of conflict because that is where the need for educational opportunities is greatest," says Krupar, an anthropology graduate. "It's rewarding to work in these complex situations because the environment is in such flux that people are constantly thinking of new opportunities for social improvement."
Krupar's work abroad has covered an array of subjects and social issues. She's been involved in gender awareness training and local peace-building in Liberia; human rights issues in Egypt; work with the Infectious Diseases Institute in Uganda; and teaching basic information technology and communication skills in Afghanistan.
"It was very eye-opening to teach and live in these conflict-heavy environments," Krupar says. "I now know the amount of work and progress that can be accomplished, even while working in less than ideal teaching environments."
Krupar enrolled at Penn State University this fall, working toward a doctorate in Adult Education and Comparative and International Education.
After earning her degree, she hopes to work in more conflict-affected countries, such as South Sudan, the Democratic Republic of the Congo or Somalia. —JC