Andrew Witte
// Smartwatch Engineer // CWR '09 // 25 //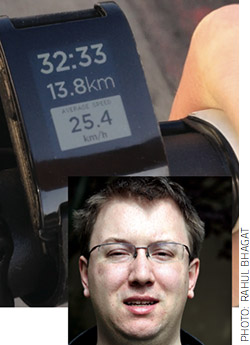 Shortly after moving to Silicon Valley to pursue a career in a consumer startup, Andrew Witte became only the second employee of Pebble Technology, creator of the Pebble smartwatch. Through Bluetooth technology, the Pebble wirelessly syncs to an iPhone or Android, then connects with apps; alerts users of incoming calls, emails and messages; and tells time on a waterproof, programmable e-paper face.
Witte, the lead engineer, and Eric Migicovsky, founder and CEO, took to the popular project-funding platform Kickstarter, hoping to raise $100,000 for the venture. They raised an incredible $10.2 million in three weeks—a Kickstarter record—then capped fundraising efforts and began developing an initial batch of watches.
A computer engineering major, Witte joined Pebble because he wanted a startup where he could work on both software and electrical engineering. "It's been an incredible learning experience as far as really understanding what goes into building a consumer electronics product," he says.
Since that fundraising success, Witte and his colleagues have hustled to keep up with demand, while simultaneously working with developers to create more apps and features—such as a golf rangefinder and a running/cycling pedometer— to make the Pebble a truly customizable smartwatch.
A few months ago, the company reached its first retail deal with Best Buy, which sells the Pebble in stores and online for $150. —James Corrigan