Rebecca Gilbert Weisberg
// Entertainment Attorney // LAW '12 // 26 //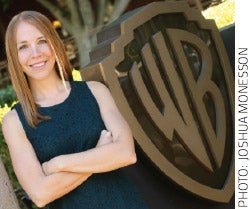 During law school, Rebecca Gilbert Weisberg was determined to pursue her dream career as an attorney in the entertainment industry. An undergraduate English major, she'd always gravitated toward the creative opportunities in law. So rather than apply for jobs at firms, she went straight to the top of Hollywood: Case Western Reserve law alumnus Barry Meyer, chairman and former CEO of Warner Bros.
Weisberg met Meyer before his speech on campus in 2011 and stayed in touch. Her persistence paid off when she garnered a meeting with Meyer and several Warner Bros. executives in Los Angeles just before graduation.
Months later, Weisberg received a call from Warner Bros. inviting her back to LA for an interview, even though there were no formal job openings available. As thrilled as she was, the timing was tricky: The company called three days before her wedding.
Weisberg got married in Cleveland on a Saturday, traveled to California the following Wednesday, interviewed Thursday and, the next day, at age 25, became one of the youngest attorneys ever to join Warner Bros. when the company hired her for a newly created position.
Weisberg serves as counsel in the Department of Legal Affairs for Warner Bros. Television, where she is responsible for four shows: Mom, Sullivan & Son, The Tomorrow People and Ground Floor. She loves her work, which includes drafting agreements concerning networks, producers, directors, writers, locations and more, and reading scripts in search of potential legal issues.
"I owe my success and career to the CWRU School of Law and Barry Meyer," Weisberg says. "Without him, they would have never created my position and an opportunity for me to pursue my dream career." —JC