Timothy Koch
// Drama Director // CWR '08 // 27 //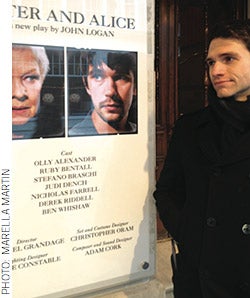 Timothy Koch recently returned to New York after serving as associate director for the 12-week West End production of Peter and Alice, starring Oscar- and Tony Award-winning actress Judi Dench at the Noel Coward Theatre in London. The play imagines what might have happened at the real-life meeting of 80-year-old Alice Liddell Hargreaves and Peter Llewelyn Davies— the inspiration for Alice in Wonderland and Peter Pan—at a London bookshop in 1932.
Just five years ago, Koch was an undergraduate theater student honing his craft in the basement of the university's Eldred Theater, acting in and directing plays, such as Witness, Macbeth and Lysistrata. "The ability to put up a show, make mistakes and learn from them," he says, "was invaluable."
In London, Koch worked with Tony Award-winning British director Michael Grandage on Peter and Alice, helping with research and leading direction once the production was up and running.
He also has assistant directed shows on Broadway with Tony- and Emmy-nominated director Moisés Kaufman, such as The Heiress and Bengal Tiger at the Baghdad Zoo. In August, he directed the world premiere of The Connector at New York's Dream Up Festival. —LC