feature
Taking Center Stage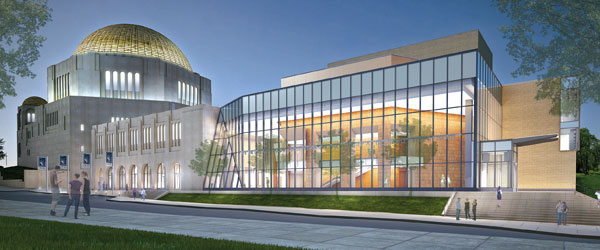 Rendering: MGA Partners
One-time child actor Milton Maltz joined his wife, Tamar, on stage before more than 350 people on April 9 to raise the curtain on a remarkable achievement: the start of a 145,000-square-foot construction and renovation project dedicated to the performing arts at Case Western Reserve University.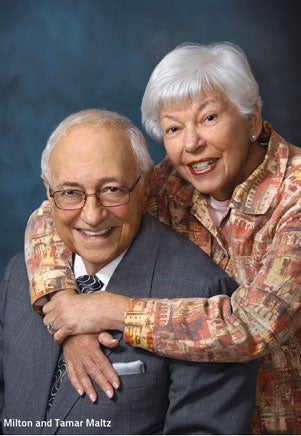 In the spring of 2010, the couple announced la $12 million lead commitment from the Maltz Family Foundation of the Jewish Federation of Cleveland to aunch the fundraising effort to create The Milton and Tamar Maltz Performing Arts Center at The Temple - Tifereth Israel. In the ensuing four years, more than five dozen additional donors recognized the extraordinary potential of the historic University Circle complex, which in recent decades was used primarily for major annual religious observances as the temple's regular activities became increasingly concentrated at a second location in Beachwood.
"It has been our dream to see this beautiful space given new life and meaning as a home for theater, music and dance students, even as it continues to host major religious observances," Milton and Tamar Maltz said in a statement. "The plan combines state-of-the-art technology with deep respect for the structure's history and grandeur. We simply cannot wait to see it open."
The Maltzes and the foundation recently increased the initial pledge to $30 million. Additional supporters brought commitments to $59.3 million. The project's total cost is estimated at $64 million, and university leaders continue to seek new contributions.
The eagerly awaited opening of the renovated sanctuary, Silver Hall, which also will serve as a large lecture and concert space, will come in the fall of 2015. Construction of the new addition will be completed in 2016. Crews will shell—or leave unfinished—those limited areas for which funds have not yet been raised.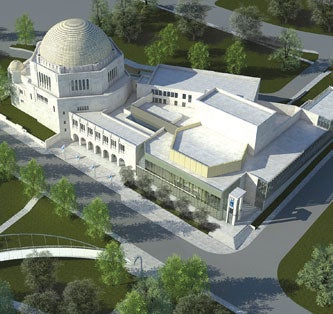 The name Silver is significant because Rabbi Abba Hillel Silver, who served The Temple from 1917 until his death in 1963, was rabbi during the construction and opening of the historic University Circle structure. His son, Daniel, succeeded him as rabbi, leading the congregation from 1963 until his death in 1989. Once restored, the sanctuary will seat up to 1,350 people for lectures and about 1,100 for concerts when a full performance stage is added to the space. New construction includes a 350-seat proscenium theater and a "black box" studio space that will accommodate multiple stage and seating arrangements. The design also calls for a recital hall that will host up to 100 people, extensive rehearsal spaces, costume and set shops, and academic offices. MGA Partners of Philadelphia is the lead architect for the project.
As Temple Rabbi Richard A. Block told the crowd assembled April 9: "This is truly a win, win, win, win, win, win, win, win project, for Case Western Reserve University, The Temple _ Tifereth Israel, the surrounding neighborhood, University Circle, the City of Cleveland, the Jewish and arts communities, and all those whose lives it will enhance immeasurably."
The university already has a nationally acclaimed Master of Fine Arts program in partnership with the Cleveland Play House, with graduates including Mad Men star Rich Sommer, 2012 Tony Award nominee Elizabeth Davis, and Joseph Russo, who directed Captain America 2: The Winter Soldier with his brother Anthony. Undergraduate performing arts programs, meanwhile, enroll hundreds of students each year in courses and offer more than four dozen different groups spread across music, theater and dance.
Standing together at the event, on stage with their hands on a giant button held aloft by performing arts students, Milton and Tamar Maltz beamed as Case Western Reserve President Barbara R. Snyder counted down to the grand unveiling of a rendering depicting the complete complex lit at night.
"This project is unique in the nation," she said, "and its combination of preservation and innovation will have a transformative effect on our programs and all of the people who come inside its remarkable space."