connect
Ambassador Gives Voice to the Vulnerable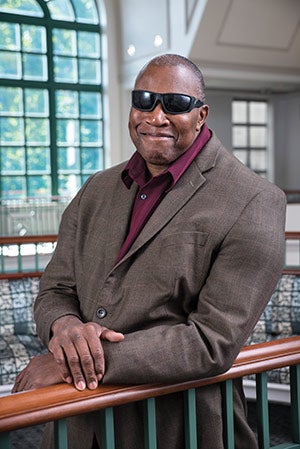 PHOTO: MIKE SANDS
Before becoming a United Nations ambassador in late 2014, W. Aubrey Webson, DM (MGT '04), spent his career creating the kinds of opportunities for children with disabilities that were unavailable to him growing up in the Caribbean country of Antigua and Barbuda.

As a child, Webson had to go abroad to Trinidad to attend schools for students who are blind. Later, as director of international programs for the Massachusetts-based Perkins School for the Blind, he led efforts to establish equal rights and in-school accommodations for students with visual impairments across the Caribbean, Africa and Latin America.

"Throughout my life I've tried to give voice to people, places and concerns that otherwise might not be heard," said Webson, who was appointed to represent his home country after nearly two decades with Perkins and an affiliated initiative to aid Africans.

In the early 2000s, Webson commuted from Watertown, Mass., (home of the Perkins headquarters) to Case Western Reserve University's Weatherhead School of Management, attracted to the residency-based Doctor of Management program. Under its three-year schedule, students do much of their learning remotely, gathering on the Cleveland campus periodically. At the same time, Webson continued to work at Perkins, where he could test his growing academic knowledge in real-world experiences.

Webson credits his education at the Weatherhead School for helping him design training programs for leaders of organizations across Africa that help people with disabilities. These programs emphasize ways to simultaneously pursue social and legal change. That's what Webson did when he advocated for the integration of students with disabilities in schools in African and Caribbean countries, while also lobbying for legislation patterned after the Americans with Disabilities Act of 1990.

"In leadership, you can change all the laws you like," he said, "but good leaders also seek to be part of changing customs and culture."

Now, as a U.N. ambassador, Webson has been in the thick of writing policy to stem international climate change, which has implications for the very future of his home country of 90,000 residents—a small, low-lying nation of two larger islands (Antigua and Barbuda) and several smaller islands, with pristine beaches that drive the local economy but are at risk because of global warming.
"We have one vote in the General Assembly—same as countries with a billion people—but we are more vulnerable and the stakes are higher," Webson said. "We don't want to be underwater in 150 years."

At the 2015 U.N. Climate Change Conference in Paris, he helped lead a bloc of 14 Caribbean countries that successfully petitioned for measures—such as a new fund for island nations damaged by climate-fueled natural disasters—that became part of the final Paris Agreement, an international pact to limit global warming.

"My country is paradise on Earth, with friendly, proud people," Webson said. "They are counting on me."