connect
Big Shot
A CWRU Hall of Famer's Heavy-Hitting
—

but Lesser-Known

—

Role in Some of Basketball's Biggest Deals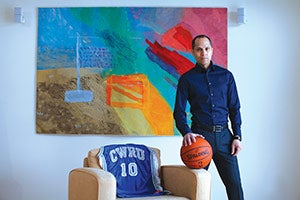 PHOTO: MICHAEL F. MCELROY
At the height of LeBron James' free agency in 2014, rumors swirled. Tensions ran high. Cleveland Cavaliers fans' emotions fluctuated wildly as the will-he-or won't-he-return saga unfolded.

Behind the scenes, Mark Termini (WRC '78) maneuvered and strategized. Having been retained by agent Rich Paul to serve as contract negotiator for his fledgling Cleveland based Klutch Sports Group, Termini ultimately crafted one of the NBA's largest, most historic and, at first glance, most surprising contracts: a two-year, $42.2 million deal for James to return to the Cavaliers after four years in Miami.

Termini, a Northeast Ohio-based attorney, structured the irregular short-term contract to secure James the best financial deal—one that allowed him to re-sign with the Cavs while boosting his earning potential significantly. The key was to time the deal to the NBA's anticipated salary cap increase.

Termini knows what it's like to map out shrewd moves—whether as a high-scoring sharpshooter on Case Western Reserve's basketball team or a high powered sports agent who has represented more than 30 NBA draft picks and negotiated professional sports contracts totaling nearly $1 billion.

The son of renowned Greater Cleveland high school basketball coach Marlo Termini (GRS '71, physical education), Mark was recruited to the university by Coach Bill Sudeck.

He wowed Sudeck, who looked past Termini's 5-foot-7-inch stature. At the time, Termini recalled, taller players were shooters, while shorter players were passers. Termini was determined to play the game he wanted to play.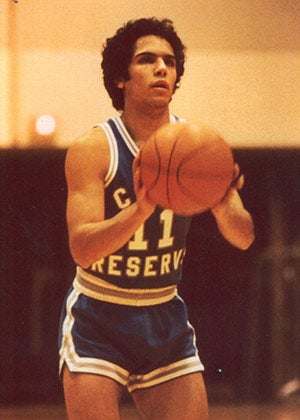 "I liked to shoot," Termini said. "So I worked hard and put so much time into it—an inordinate amount of time—that I improved a lot from high school to my senior year of college."

The results of his efforts: Termini amassed more than 1,100 points, set two school records, led the conference in scoring and twice was the team's Most Valuable Player. He was named an All-Presidents' Athletic Conference guard and a 1994 Spartan Club Hall of Fame inductee.

After graduation and a brief stint in sales, Termini headed to Minneapolis to coach college basketball with fellow Clevelander Flip Saunders (who went on to become the Minnesota Timberwolves head coach and a Termini client). A year later, he took a front-office job with the Cavs.

Termini soon realized he wanted to be more independent and self-sufficient, and earned a degree at Cleveland-Marshall College of Law in 1984.

A year later, when Brecksville, Ohio, native Scott Roth looked to enter the NBA draft, he called Termini. The forward knew Termini as one of the region's elite former high school basketball players, and hired the rookie agent.

"He needed someone with enthusiasm, energy, trust and belief in him," Termini said, "and he was willing to balance that against my lack of experience and client list. He put his faith in me, and likewise."

The San Antonio Spurs made Roth a later-round draft selection in 1985, but after new clients Ron Harper (No. 8 to the Cleveland Cavs) and Brad Sellers (No. 9 to the Chicago Bulls) became 1986 NBA lottery picks, word spread about Termini.

That same year, Termini started his sports agency, Mark Termini Associates, with his wife and business partner Wendy Cohn, JD (WRC '77)—an exceptional tennis player who, during her own undergraduate days, played on a team that lost just four matches in four years.

"I firmly believe that athletes know how to compete. They know discipline. They know defeat. They hopefully know how to behave in victory. And whether you go into business or any other walk of life, those qualities are very valuable."
—
Mark Termini
During his 30-year career, Termini has represented many other NBA standouts from Ohio, such as Jim Jackson, Earl Boykins and Kosta Koufos. And since 2013, Termini and Paul have sealed deals worth more than $325 million, including those for the Cavs' Tristan Thompson, Eric Bledsoe of the Phoenix Suns and, of course, James.

"Competing in the sports agent world really just took the place of competing in high school and college basketball," Termini said. "That was—and is—my nature."

Termini said his playing career—from grade school to college—has been a major key to his success today. Though many agents are lifelong fans, he said, few know what it feels like to be a competitive athlete: the thrill and the triumph; the ego and the excuses.

Termini still maintains his discipline, intensity and focus on the game, whether he's working a deal on the phone or spending time at his "second office"—a favorite local restaurant where his routine and preferences are well known.

When Termini walks in, staff turn the television near his "regular" table to NBA TV. That way, as Termini dines on vegan dishes, he can keep a constant pulse on the game's every twist, turn, tweet and rumor that might give his clients an edge.

Now, as the Cavs seek a championship for Cleveland, Termini is proud to have been a part of James' return.

"I want to see LeBron and Cleveland succeed," he said. "I really believe this is the time for [James] to pursue this formidable quest—to bring a championship to a town that's had a 50-plus-year title drought. If that happens, I would be very proud to have played some role in that long-awaited achievement."

Fast Break
Years: 1974-1978
Position: Guard
Career Points: 1,161
School Records:
Assists (One Season): 106
Free Throw Shooting (Career): 85.4%
Honors:
Team Captain (1976-77, 1977-78)
CWRU MVP (1976-77, 1977-78)
Presidents' Athletic Conference Scoring Leader (1977-78): 21.7 points per game
Spartan Club Hall of Fame (1994)