LENS Health and Wellness
Nursing Change
Developing the Next Generation of Leaders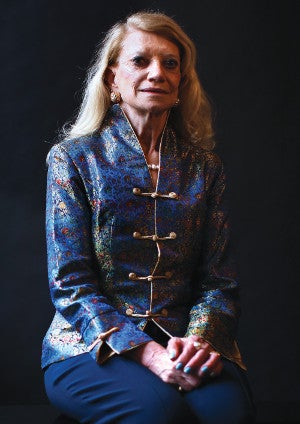 PHOTO: Michael F. McElroy
As an undergraduate, Joyce Fitzpatrick was called in to see the dean of her nursing program because of her too-active social life and grades insufficient to maintain her presidential scholarship.
Fitzpatrick arrived expecting a reprimand. Instead, the Georgetown University dean inspired her—with a passion for helping others and an offer to be Fitzpatrick's mentor. "She told me I had potential to do better," said Fitzpatrick, PhD, RN (MGT '92, HON '92, nursing), the Elizabeth Brooks Ford Professor of Nursing. "That conversation launched my career in nursing and as a mentor."
And quite a 40-plus-year career it's been. Last year, Fitzpatrick received the American Academy of Nursing's highest award: Living Legend. A former president of the small and select organization, Fitzpatrick was nominated by a previous mentee and former school of nursing dean, May L. Wykle, PhD, RN (NUR '62, '69; GRS '81, education). In March, she received the Nightingale Initiative for Global Health's Action in Advocacy Award for Excellence in Teaching and Mentoring Nursing's Future Leaders.
Fitzpatrick has helped hundreds of students and colleagues as a nurse, scientist and professor, and as dean of the university's Frances Payne Bolton School of Nursing from 1982 to 1997. Today, she is invited by former students into their classrooms around the world to share a message that's central to her scholarship and has helped re-shape nursing education: All nurses should be leaders, no matter whether they're at the bedside or in the boardroom.
A leader is exactly what Fitzpatrick continues to be. One week she's helping launch a new nursing journal in Southeast Asia; the next she's teaching nursing students how to relate to patients and families. She also edits three professional journals and has written, co-written, edited or co-edited 80 books, including the recently published 301 Careers in Nursing.
"I don't want to look back and think I could have done more," she said.