LENS Health and Wellness
Boom Times
Population Trend Doesn't Get Better with Age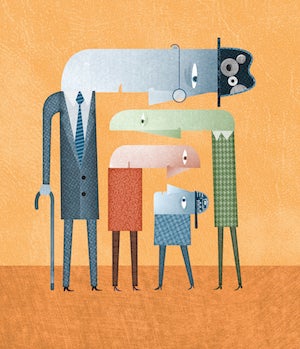 IMAGE: JOYCE HESSELBERTH/THEISPOT
A sobering statistic helps explain why the shortage of healthcare workers for older Americans is so troubling.
Every day, roughly 10,000 people in the United States turn 65. The oldest members of the baby boom generation began reaching that milestone birthday in 2011, and the youngest of this group that has helped define American society for decades will reach 65 in 2030, according to the Pew Research Center.
How society will care for and meet the needs of the ever-larger percentage of people transitioning to retirement and beyond is very much on the mind of Aloen Townsend, PhD, the Ralph S. and Dorothy P. Schmitt Professor at the Jack, Joseph and Morton Mandel School of Applied Social Sciences. Townsend has spent her career studying aging issues, and in 2016 was named Researcher of the Year by the Ohio Association of Gerontology and Education.
Even as the elderly population grows, she said, the average family size is shrinking, leaving fewer children to take on the role of caretaker. At the same time, the nation suffers from a vexing shortage of health-care workers and social workers trained to work with an aging population— and that shortage only will get worse as more people turn 65.
While no single solution will combat the problem, Townsend believes society should:
Strengthen federal and state paid family-leave laws to provide more flexibility for working people who need time off to care for family members;
Improve services for both members of elderly couples struggling to care for themselves and each other; and
Provide more funding for students who focus on aging issues and for education initiatives, such as the Aging in Place program, which sends interdisciplinary teams of Case Western Reserve University students to visit the homes of elderly people