LENS Read
Carving Out Space
Muslim Americans Creating a Sense of Community and Belonging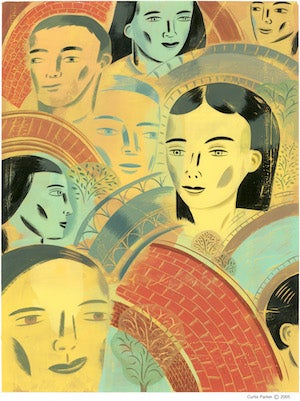 IMAGE: CURTIS PARKER/THEISPOT
After 9/11, American Muslims faced intense scrutiny and felt compelled to both prove their loyalty as citizens and demonstrate that their faith was non-threatening. Some navigated this disquieting experience by making their own spaces where they could comfortably and collectively pursue their dual identities.
Justine Howe, PhD, assistant professor of religious studies, explores these places, known as "third spaces," that are neither home nor mosque in her debut book, Suburban Islam (Oxford University Press).
The book is a case study of the Mohammed Webb Foundation, a third space in suburban Chicago created after 9/11. Howe spent four years examining how member families live out their Muslim-American identities by using the space as a base for ritual practices, such as celebrating the Prophet Muhammad's birthday, and for typical American activities, including sports, camping and volunteering in the community. The foundation provided an alternative to mosques, which some members felt had not adequately led them through the fraught terrain of American religious politics.
"I was really drawn into the deliberate ways they talked about being American and Muslim, and then the multiple practices through which they went about trying to put their vision into reality," Howe said.
Now, in today's political climate replete with what Howe calls "astonishing xenophobic and Islamophobic rhetoric," she hopes readers will see that Muslim Americans are "creating these dynamic communities that are very much civically engaged and contribute to the wider community in a variety of ways."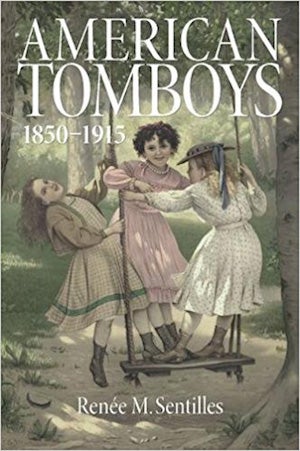 American Tomboys, 1850-1915 (University of Massachusetts Press) by Renee Sentilles, PhD, associate professor of history. The term "tomboy" evokes both independence and confining gender expectations. Sentilles explores the concept, which emerged during the Civil War era as women took on a greater role in the economy. The tomboy was a new ideal—the spunky, self-reliant girl—during America's early-20th century industrialization. Sentilles examines the history of gender, family, race and nation as the tomboy's role evolved in a society undergoing fundamental change.
Squadron: Ending the African Slave Trade (Overlook Duckworth) by John Broich, PhD, associate professor of history. Even after the U.S. Civil War, an illicit slave trade continued, especially in the Indian Ocean. One British Royal Navy squadron rarely lifted a finger to police it until a set of officers took it upon themselves to attack the trade around 1868. Broich tells the forgotten story of the government and merchant backlash against the crusading Navy officers, and the surprising way their story was adopted by abolitionists to win a major victory: the shutdown of the slave market at the heart of that Indian Ocean slave trade.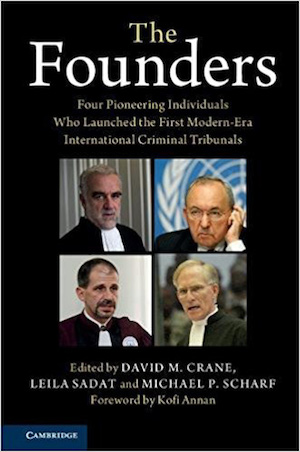 The Founders: Four Pioneering Individuals Who Launched the First Modern-Era International Criminal Tribunals (Cambridge University Press), co-edited and contributed to by Michael Scharf, JD, co-dean of the School of Law; David M. Crane, JD (HON '08), a Syracuse University law professor and former chief prosecutor for the Special Court for Sierra Leone; and Leila Sadat, JD, a Washington University law professor and special advisor to the International Criminal Court prosecutor. Readers meet founding court prosecutors—including Crane—who recount their path-breaking work to build the tribunals, mount their first prosecutions and seek justice for millions of victims. The forward is by Kofi Annan, former secretary-general of the United Nations.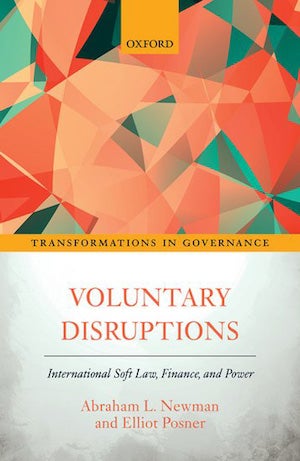 Voluntary Disruptions: International Soft Law, Finance, and Power (Oxford University Press) co-authored by Elliot Posner, PhD, associate professor of political science, and Abraham Newman, PhD, an associate professor at Georgetown University. In our increasingly globalized world, countless international markets are governed by soft law—voluntary standards, best practices and recommended guidelines that are not legally binding but significant. The authors argue that soft law is deeply political, shaping the winners and losers of globalization and having disruptive, transformative effects on economic governance.