CONNECT Venture
Driving Ambition
Alumnus Michael Comet Helps Animators Bring Cars—and Other Objects—to Life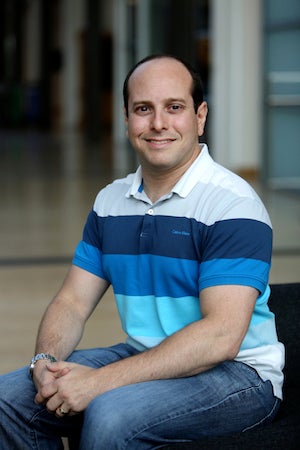 A car doesn't have eyes. Or a mouth. A car doesn't have feelings, because a car isn't alive. Yet, watching the Cars movies, it's easy to forget this basic rule of physics. Those hunks of metal smile, blink, laugh, shudder and cry. They aren't human, but somehow, with little more than a set of headlights and a grill, they emote.
One of the people responsible for that act of transformation is Michael Comet (CWR '94), who has worked for Pixar Animation Studios for more than 10 years, most recently on Cars 3.
Comet is a character supervisor responsible for technical rigging, which means he ensures the characters are able to move in realistic, lifelike ways—even if they aren't actually animate objects.
"We're setting up hundreds of controls for animations, so that the animator can open the mouth, move the eyebrows, make sure the skin slides over the muscles as the character moves," Comet explained. Because the animations are digital, the software used to control them involves a lot of math. "It's a little bit like attaching the strings to a marionette, except the strings are numbers."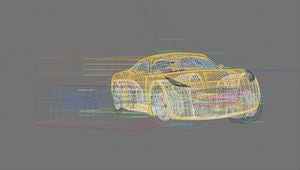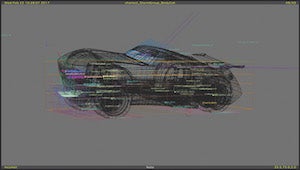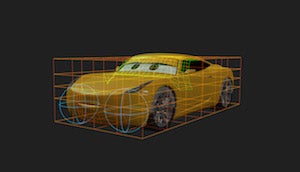 IMAGES: Courtesy of Disney/Pixar
Computerized sketches with technical rigging, which helped vehicles move in lifelike ways for
Cars 3
.
Growing up in Beachwood, Ohio, Comet was a "full-on computer nerd" who taught himself to program his own video games in high school. He considered pre-med at Case Western Reserve University, but liked computer graphics more, and majored in computer science. While a student, he wrote image-viewing software (something not common then) to enable students to see notes their professors had scanned into a computer.
Comet said he never dreamed he'd one day work at Pixar, but in retrospect, it's clear his path was pointing straight toward his current job. During college, he took painting and drawing at the university and the Cleveland Institute of Art, where he learned about color, anatomy and art principles such as negative space.
He also took acting classes at the Cleveland Play House, which taught him to think about how bodies move in space. Both his art and theatrical backgrounds help him communicate with his team of artists and animators, who don't always speak the same language. And part of his job is to balance their requests adeptly, said his boss, Michael Fong, a supervising technical director at Pixar.
"The art department is always thinking about what cars should look like and puts a lot of focus on what makes a car look fast or stylish," Fong said. "At the same time, the animation group needs to make sure our cars can act with expressive faces and instantly readable expressions. These goals don't always align. It's Comet's job to navigate a compromise that also works with current technology. He did a fantastic job for Cars 3."
IMAGES: Courtesy of Disney/Pixar
Scenes from
Cars 3
.
Comet connected with Pixar in 2006, when the Dallas production company where he worked was on the verge of closing and held a job fair for employees. Soon after, Pixar offered Comet a job and he moved to California, where he now lives in Concord with his wife, Marci, and their miniature poodle, Buddy. Among his hobbies: getting behind the wheel on racetracks and California Highway 1, which runs along the Pacific Ocean coastline.
Comet took a research trip to Sonoma Raceway while working on Cars 3. He didn't get to do any racing, but he did ride in a pace car—and was well prepared. "People were surprised when I showed up with my own helmet," he said.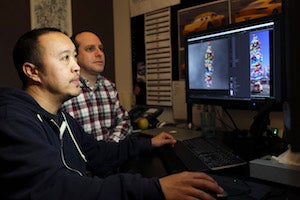 PHOTO: Courtesy of Disney/Pixar
He's also visited Six Flags Discovery Kingdom in Vallejo to study how giraffes move to help animate the dinosaurs in The Good Dinosaur.
While making a garden hose appear to have a will of its own—as he did for his first film, Up—is a challenge, human characters remain the trickiest assignment. "We're so used to seeing what people look like and how they move, you'll notice if something seems off," he said.
Comet now is working on a short film that will screen before The Incredibles 2, which comes out in June.
He still sounds amazed that he gets paid to do what he does. "I always looked at computer graphics as a hobby," he said. "I'm doing this for fun."