CONNECT Spotlight
A North Dakota Dynamic Duo
From Campus to the State Capital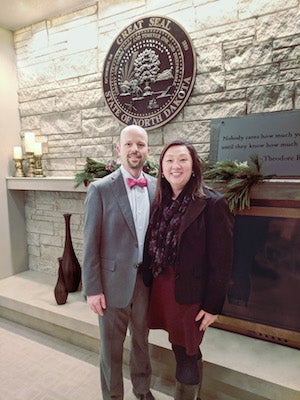 Jerod and Mylynn Tufte are a power couple. Jerod, JD (CWR '97), is a North Dakota Supreme Court justice. Mylynn (NUR '95) leads North Dakota's Department of Health as the state health officer. A former critical care nurse, she also has an MBA and a master's in information management. They started in their respective posts last year. Most days, they commute the 64 miles from home to the capital in Bismarck together. There, they help shape state laws and policies. They talked with Think about work, family and how their love story began.
From roommates to romance
Jerod Tufte: I was living in an apartment with somebody who left on short notice—and left me without somebody to pay half the rent. Mylynn and I had both lived in dorms on the south side and had some mutual acquaintances and got to know each other a little bit there. So, I came knocking on her door. She was living with a couple of other students, and I begged them to take me in.
Mylynn Tufte: We had an extra room in our Cedar-Fairmount house and I had known Jerod for three years.
JT: About six months later, we started dating.
Picking the Peace Garden State
JT: I grew up in North Dakota [Mylynn in Michigan]. We bought some recreational property in rural Kidder County, thinking of it as an investment, but also as a place to hunt or maybe spend weekends in the summer. We ended up moving there because I found out that this county recently had its last lawyer retire and they were willing to offer me the job of county prosecutor.
Car pool
MT: The fact that we get to commute together is very nice, given the distance.
JT: It's about 10 hours a week, give or take, that we have quiet time to talk about family events and schedules and listen to podcasts. [The Tuftes have three children: Taggart, 12; Elyse, 10; and Wyatt, 8.]
Motivation
MT: I enjoy learning new things. We're going through a tremendous amount of change within the agency. We have a new governor, we have a new administration. There are a lot of different pressures facing the state, and given my background in consulting, I feel like I have the right assets to help the state move forward.
JT: Some of it is pride in where you come from and knowing that you're working for the people of your whole state. I have four colleagues that sit with me on this court, and everybody brings something different to the table. And being able to parse through important and challenging intellectual puzzles and come to a solution—it gives you a lot of job satisfaction.
Do you feel the weight of your work?
MT: Absolutely. There are a lot of people who are going to be impacted by the things that we do. The Department of Health is setting up a medical marijuana program. This is something voters passed as a ballot initiative in 2016, and it has come to the Department of Health to implement. It is a medical program; we have to get it right.
JT: When three or four or five of us come to an agreement and decide a case, it's vanishingly rare that anybody else will ever get to take a second look at that. We're deciding this case, but we're also putting a marker down for all similar cases that might come up in the future. My wall is covered with law books that have printed opinions from other courts that are similar to mine—and those are forever. So, you do feel the weight to do your best to get it right.