LENS Business, Law and Policy
Fueling Early-Stage Energy Companies
Researchers Designing New Financing Vehicle to Draw Investors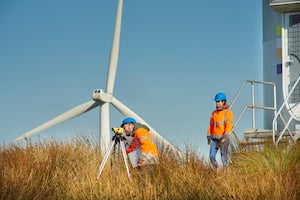 PHOTO: iStock
Anurag Gupta and Joonki Noh are working to solve a series of complex quantitative problems—and if they do, they believe billions of dollars across the globe could be invested in new energy technologies.
"We're aware that what we're attempting to do is very difficult," said Gupta, PhD, senior associate dean at the Weatherhead School of Management and the H. Clark Ford Professor in the Department of Banking and Finance. Noh, PhD, an assistant professor of banking and finance, is his co-investigator.
They've received a two-year grant of up to $600,000 from the U.S. Department of Energy (DOE) to design a new financing structure to lure more and larger investors to early-stage companies developing new technologies in renewable energy.
They aim to address the financing dry spell that often threatens the survival of young companies from when they receive startup seed money to when they've grown sufficiently to draw longer-term investors.
"A lot of startup companies die before they can scale up, and they die because they cannot attract larger and longer-term investments," Gupta said.
The challenge, then, is to bridge that gap with a new financing structure that appeals not only to venture capitalists reluctant to take on far-off payouts, but also to big and more patient institutional investors—including pension funds, insurance companies and foundations—that often have less appetite for risk and don't make small investments in small companies.
Gupta and Noh said the solution is two-part: to develop a pool of energy companies at different stages of growth to diversify the risks and create the scale that institutional funders want, and then design a financing vehicle for investments lasting 20 to 30 years and beyond.
That's far more complicated than it sounds.
"If it wasn't so complex, it would have already been solved," Gupta said.
But the time is ripe, with broad interest in renewable energy and growth in startup energy companies in the last decade, Noh said.
After designing the financing structure, they'll work with the DOE to present it to potential investors, who Gupta believes could collectively invest billions of dollars into the pool.
"You don't often have the opportunity to have such a big global positive impact," he said.