FEATURES
Fashioning History
Alumna Elaine Nichols, Senior Curator at the Smithsonian's National Museum of African American History and Culture, Believes Everyone Has a Story. This is Hers.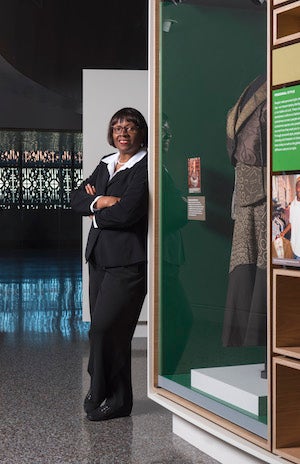 PHOTO: David Colwell
The mustard-yellow, floral-wrap dress features a delicate shawl collar, triple-pleated skirt and skinny belt that cinches the waist. The design has a dignity and quiet strength to it—like the woman who made it.
Seamstress Rosa Parks was working on the soft viscose dress around Dec. 1, 1955, the day she took a brave, defiant stand—and changed history. Parks' arrest for refusing to relinquish her seat on a city bus to a white man sparked the 381-day Montgomery (Alabama) Bus Boycott, and spurred local and national campaigns to end segregation.
The garment is an ordinary object that evokes an extraordinary moment in history, when a long-time civil rights activist fed up with racism and inequality became a national trailblazer. And now it's among more than 3,000 artifacts on exhibit at the National Museum of African American History and Culture (NMAAHC) in Washington, D.C.
"When I see the dress, I feel deep appreciation for her sacrifice and courage," said curator Elaine Nichols (SAS '80), who met Parks before her death in 2005 and oversees the collections of clothing, textiles and decorative arts that includes the historic garment.
Nichols has played a formative role at the world's pre-eminent African-American history museum, joining seven years before it opened to acclaim and unprecedented lines in 2016.
The Smithsonian's 19th museum reaffirms, as then-President Barack Obama said, that black history "is not the underside of the American story. It is central to the American story."
The museum's collection includes a hymnal of Harriet Tubman, a former slave who led hundreds to freedom; the original casket of Emmett Till, a 14-year-old brutally murdered in 1955 by Ku Klux Klan members; and singer, songwriter and musician Chuck Berry's red 1973 Cadillac Eldorado.
As senior curator of culture, Nichols oversees a staff of seven whose focus areas include fashion, furniture, sports and music. In some ways, she was born for this work, although, by her own accounts, she took a circuitous route getting there. From a childhood in North Carolina, where she learned about this country's ugliest history from a relative who had been enslaved, to her work as a Cleveland city planner and later curator of an exhibit of African-American funeral and mourning customs, Nichols has shown an endless intellectual curiosity, a passion for storytelling and a patience for listening, even in the tensest situations.
"It was in the DNA for me to become involved with museums and historical studies," Nichols said in her office on the fifth floor of the museum, which was built on the last free parcel of the National Mall. "Everyone's story matters."
A HISTORY KEEPER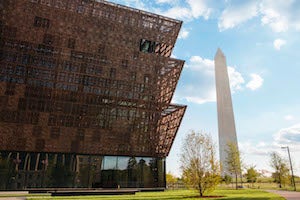 PHOTO: LEXEY SWALL/THE NEW YORK TIMES/REDUX
Nichols was born in Charlotte, North Carolina, to Susie Johnson, a domestic worker, and Floyd Sanders, a janitorial supervisor at a local bank. Nichols and her five siblings grew up with a large extended family. "There were always people to hug and kiss you and affirm you as a person," she said.
Among Nichols' treasured family members, one stood out: great-great-Aunt Katie. Born into slavery, Katie was a sprite centenarian who took 3-year-old Nichols on walks through the woods and riveted her with stories of life as an enslaved person. "All she wanted was to learn to read and write," Nichols said. "It was illegal, so whenever her master caught her, he beat her. But she stayed focused and was proud of the fact that she was literate."
When Nichols was about 4 years old, the family home went up in flames. As her oldest brother, Billie, pulled her to safety, she pleaded with him—in vain—to stop so she could retrieve a framed portrait of their grandmother as a baby.
All the photographs were lost, along with the house itself, but Nichols' preservationist instincts later established her as keeper of the family history. "I'm the family pack rat," she said, smiling. "I've always been fascinated by photographs and the stories behind the people."
Nichols majored in political science at the University of North Carolina–Charlotte and was one year out of college when her friend Winnie Bennett (SAS '78) suggested she consider graduate school at what's now the Jack, Joseph and Morton Mandel School of Applied Social Sciences at Case Western Reserve University. The planning component of the master's degree, which involved nonprofit management, program evaluation, public policy and strategic planning, appealed to her desire to create "positive change for people at the macro level."
"I loved being at Case [Western Reserve University]," Nichols said. "There was a sense that no matter who you were—the dean, a student, a professor or the janitor—you were part of this family. My [classmates] were very diverse: black students, white students, gay students. The school taught me to be tolerant and sensitive, and to listen. Those are lessons that have stayed with me."
Freda Saleem (SAS '80) became friends with Nichols during their days on campus and remembers her as politically active and a calming force. "If Elaine joined a cause," Saleem said, "it gave it more credibility."
During five years in Cleveland, Nichols served as a city planner and later as a planning manager. She worked with citizens who were grappling with racial tensions and waiting for the cash-poor city to deliver promised services. "I remember one meeting where people yelled and cursed for a solid hour," Nichols said. "It was like a pressure-cooker; they needed to release the steam before we could have a conversation. My job was to listen and report their ideas" to community development leaders.
CURATING A CAREER
In the mid-1980s, Nichols enrolled in a master's degree program in archaeology at the University of South Carolina, pursuing a subject that had fascinated her since fifth grade.
Nichols was immersed in her studies when Myrtle Glascoe, PhD, a member of an advisory committee for the South Carolina State Museum (SCSM) asked her to review some exhibition text about African-American history. SCSM curator Fritz Hamer was so impressed with Nichols' work that he asked her to guest curate an exhibition on African-American funeral and mourning customs.
"I immediately said 'no' because I couldn't fathom that anyone would be interested in such a depressing topic," she said with a laugh.
Nevertheless, Nichols was sufficiently intrigued, so she spoke with a group of ninth-graders and realized this was her chance to illuminate a fascinating—but often misunderstood—topic. Her interest solidified when she got home and opened her graduate-student refrigerator, which revealed only "a bottle of water and a head of cabbage."
"So, I called the museum back and asked if the position was still open."
As it turned out, myriad people were interested in death. The Los Angeles Times even devoted a page and a half—in precious full color—to The Last Miles of the Way: African American Funeral and Mourning Customs in South Carolina, 1890–Present. The exhibit, and its curator, were a hit.
"I felt like I had found my life as a curator," Nichols said. "When developing an exhibition, you start with an idea or narrative, then you work with all kinds of people—designers, conservators, public relations people—to bring it to life. All these years later, that process still excites me."
She joined the museum full time and spent the next 20 years gathering artifacts and creating exhibitions about African-American and women's history.
"Elaine was instrumental in developing our collection related to women's issues, something not many people were paying attention to at the time," said Hamer, PhD, who spent 25 years at SCSM. "It wasn't long before people began to take notice of her abilities."
In 2009, Lonnie Bunch, who became founding director of the National Museum of African American History and Culture, reached out to Nichols to participate in the NMAAHC's Save Our African American Treasures tour when it came to South Carolina. Beginning seven years before the museum opened, the tour was "basically Antiques Roadshow without the pricing," Nichols said.
Organizers invited people in 16 cities to bring their family heirlooms for individual consultation with curators, including Nichols. While a few objects made their way to D.C., the tour's goal was to help people document and preserve their family history.
After the tour stops in South Carolina, Bunch offered Nichols a job.
"NMAAHC is so fortunate to have the skills and creativity of Elaine Nichols," Bunch said. "When I first encountered Elaine, she was a curator at the SC State Museum where I was taken by the exhibitions she curated, such as one on burial practices of the enslaved. Equally important was her kindness and generosity, so I knew she would be a great colleague."
AN AMERICAN PILGRIMAGE
The National Museum of African American History and Culture opened Sept. 24, 2016, witnessed by a sea of people who had gathered on the National Mall.
"When I looked out, I thought of the Sterling Brown poem, Strong Men: 'The strong men keep a-comin' on / The strong men get stronger,' " Nichols said. "I saw waves of people, people of all ages and races, who kept coming and coming. It has become a place of pilgrimage, not just for blacks, but for whites as well, and for people around the world."
As at any Smithsonian offering, museumgoers could spend weeks soaking up every fact and artifact. But the NMAAHC's "dwell time"—how long a visitor typically stays—is unprecedented, averaging more than six hours on weekends, compared with 45 minutes to two hours for most museums. It's not uncommon for people who can't get online tickets to line up outside at 3 a.m. to score same-day admission.
Lower floors, dimly lit and heavy with the weight of history, explore slavery and segregation, while upper galleries—lighter, both literally and metaphorically—showcase African-Americans' contributions to music and performing arts, sports, literature and the culinary arts.
The fashion collections—Nichols' domain—hold a treasure of clothing from as far back as the 1700s. "Dress and fashion inform others of our identity," Nichols said.
The collections include a cotton work dress made by an enslaved woman in Virginia; a pink jumpsuit worn a century later by Diahann Carroll, the first black actress to star in her own television series; the Parks dress, which came in as part of the 2,000 piece Black Fashion Museum collection; and gowns designed by Ann Lowe, the granddaughter of an enslaved dressmaker. Lowe became one of the most significant
American designers of the 20th century, crafting glamorous dresses for the Rockefellers and Vanderbilts, and even creating the wedding gown and bridesmaid dresses for the wedding of John F. Kennedy and Jacqueline Bouvier.
The collections can educate and inspire; spur understanding and pride. Consider the story of Ophelia DeVore, the first black model in the United States and a pioneer in changing perceptions of American beauty. She also helped launch the careers of African-American models and actors at the agency she founded in New York City in 1946. Her collection of clothing and accessories, reflecting her own storied career, is housed at the museum.
"She was committed to making fashion accessible to everyone," and trained those who walked through her door to carry themselves with poise and confidence, Nichols said.
Sharing stories of both the anonymous and the pioneers like DeVore and Lowe with the more than 2.5 million people who've visited the NMAAHC isn't just the highlight of Nichols' career—it's the great honor of her life.
"I remember in one of my classes at Case [Western Reserve University] we talked about the various stages of life," Nichols said. "When you come to the end of your life, you want to be able to say, 'It hasn't been perfect, I didn't get to do all the things I wanted, but I've built good relationships and I've worked at something that I care about.' I feel very lucky that I can say that."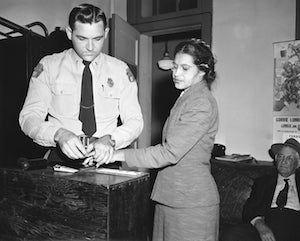 PHOTO: Associated Press
QUIET STRENGTH
Curator Elaine Nichols is determined to erase the myth that Rosa Parks was a frail, reticent woman who got tired one day and refused to give up her seat on a city bus.
Parks was active in the civil rights movement 12 years before her historic arrest that triggered a campaign to end segregation on Montgomery, Alabama, city buses. She served as secretary of the city's NAACP chapter, where she established herself as a top sexual assault investigator. She also attended Highlander Folk School, a training ground for activists, and was deeply committed to dismantling discriminatory obstacles to voting.
Nichols, a senior curator at the National Museum of African American History and Culture, aims to give a more complete picture of Parks' contributions. And the museum's exhibit of a dress Parks made provides a powerful reminder of her dual role as seamstress and activist. Her courage and fortitude—before her 1955 arrest and long after—changed America, Nichols said.
LIVING HISTORY
The 400,000-square-foot National Museum of African American History and Culture, next to the Washington Monument, is wrapped in an ornamental bronze-colored metal lattice that pays homage to the ironwork crafted by enslaved African Americans.
Eleven inaugural exhibits feature about 3,000 objects. Other artifacts in the museum's more than 36,000-piece collection are kept at a Smithsonian storage facility in Landover, Maryland. Museum staff continue to gather artifacts to capture history as it happens. Elaine Nichols helped collect handmade jewelry and signs from President Barack Obama's second inauguration in January 2013 and the Women's March in Washington four years later. Admission is free; passes are released online three months in advance.

Images from the collection of the Smithsonian National Museum of African American History and Culture, with the following additional credits: shawl: gift of Charles L. Blockson; boat seat: gift of Juan Garcia Salazar; button: gift from Dawn Simon Spears and Alvin Spears Sr.; Tuskegee flight jacket: gift of Lt. Col. Woodrow W. Crockett; Lowe dress: gift of the Black Fashion Museum founded by Lois K. Alexander-Lane; flightsuit: gift of Maj. Gen. Charles F. Bolden Jr., USMC (ret); Obama sign: gift of Elizabeth Hess; inkwell: gift of the Baldwin family.