CONNECT Profile
Gold-Medal Nutritionist
Alumna Helps Fuel Olympians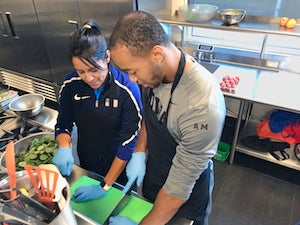 PHOTO: Courtesy of Jen Hatz / United States Olympic Committee
Ryan Murphy had just won a gold medal in the 100-meter backstroke for the American team in the 2016 Summer Olympics in Rio de Janeiro.
But Alicia Kendig (CWR '04; GRS '05, public health) missed it.
A senior sports dietician for the United States Olympic Committee (USOC), Kendig had worked closely with Murphy to prepare him nutritionally for the games. But when his moment—which included setting an Olympic record—arrived, she was busy doing her job.
"I was actually on a bus, bringing hot meals to the swimmers because they were finishing up after midnight," she said.
Murphy is one of about 500 Olympians and Paralympians—in sports including swimming, track and field, and women's ice hockey—Kendig has worked with since joining the USOC as a registered sports dietitian in 2011. They've nicknamed her "Nutricia."
Part of what makes Kendig so effective working with elite athletes is that she was one and knows how factors such as stress can impact performance and diet.
"She understands the psychological aspect," Murphy said.
Kendig, inducted into the Spartan Club Hall of Fame in 2014, is the most decorated women's swimmer in Case Western Reserve University history. She competed from 2001 to 2004 and was an 11-time All-American, an NCAA champion and national qualifier all four seasons. She also holds three school records.
Kendig plunged into nutrition as an academic focus while choosing classes for her first semester. Her mom suggested the subject as a pre-med option, "so you can at least learn what to feed your kids," she said. And it stuck, becoming her undergraduate major.
"I do think marrying athletics and nutrition—or the science behind the sport—was kind of a natural thing for me," she said.
Now Kendig juggles varied responsibilities based on location.
At USOC's state-of-the-art sports-science facility in Colorado Springs, Colorado, she works with athletes in a kitchen, testing recipes that could, for example, help them better recover from injuries; a lab that conducts blood tests and measures factors such as bone density; and a "climatization chamber," where they can experience extreme conditions, such as high altitude, heat and humidity.
She also travels to watch athletes train in their hometowns and goes grocery shopping with them to provide nutritional advice specific to their needs. Sprinters, for instance, may not need as many carbohydrates as an endurance athlete, and swimmers generally require lots of calories during training, but less as they work to reduce their race times. And, of course, Kendig travels to competitions. She jokingly described her role as "glorified smoothie lady."
Hardly.
Murphy, who ultimately won three gold medals in Rio, recalled sitting in a cold tub after one of his semifinal races there "and Alicia comes up with this to-go box of food (rice, chicken, sautéed vegetables and fruit) and it was like, 'Here you go, I've made this dinner for you, you've got everything you need.' That's what she was doing throughout the meet: packing everyone's dinners, handing it to them as they finished their cool-down, just to make sure we were as prepared as possible to attack the next day."
And while Kendig missed Murphy's individual Olympic record, she was poolside days later when he set a world 100-meter backstroke record as the leadoff leg of the 4x100-meter medley relay team, which set an Olympic record.
Kendig said she's never measured her contribution in medals, but is proud to help athletes attain their goals.
"I feel very lucky to do what I do, and we just say we work in support of Team USA," she said.
"We're the team behind the team."