LENS Dispatch
The Power of Action
Students Experience Empathy, Understanding and Inspiration by Being Engaged Citizens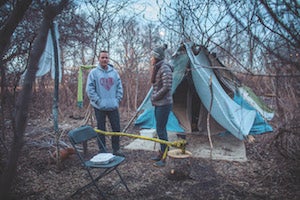 PHOTO: Michael F. McElroy
On a frosty winter night, a middle school library in Lakewood, Ohio, buzzed with the energy of three dozen teenagers. Many were refugees; all were immigrants.
Case Western Reserve University senior Jeffrey Antoine sat with three of them—two girls and a boy from Thailand, Burma and Bhutan, respectively—helping to decipher their homework. They talked and joked as they discussed science concepts, but the students' eyes rarely strayed from their tutor. When he asked them to calculate for displacement in a chemical reaction, the only sound was that of pencils scratching on paper.
With a mother who came from Taiwan (his father is from New Hampshire), Antoine is connected to someplace else, just like them. He also comes to their neighborhood school from a university, and serves as a source of inspiration.
"We love the Case [Western Reserve] volunteers," said Kitty Leung, who runs this after-school tutoring program for Asian Services in Action, a nonprofit that helps refugee families. "Our students really connect with them."
The contributions run both ways, which is why Antoine is here. He's joined the Center for Civic Engagement and Learning (CCEL), which sees community service as part of the Case Western Reserve education. Students involved in the center leave campus for myriad activities in and around Cleveland, such as tutoring adults for the GED exam, bringing food to people who are homeless and tending to animals in shelters. They return knowing more about the world and their power to make a difference.
"We want our students to know the city and understand what it means to be an active community member, an engaged citizen," said Betsy Banks, CCEL's director.
Banks and her staff design a hierarchy of commitment levels, from service days to weekly engagements to even longer periods for designated Civic Engagement Scholars. Then they add elements that deepen the volunteering experience, such as peer leadership and group reflections on the meaning of the work.
During the last academic year, 1,755 students participated in CCEL programs. Students also engage in service opportunities offered by campus groups and Greek Life, making volunteering a common facet of the university experience. Banks believes the service is helping many students envision their role in the world and, in some cases, even influencing their choices of majors and careers. We asked some student volunteers to describe their experiences in the field. Their stories follow.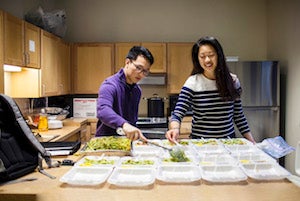 PHOTO: Michael F. McElroy
Joyce Chu volunteers with The Labre Project, a homeless ministry started locally at St. Ignatius High School and sponsored at Case Western Reserve by Newman Catholic Campus Ministry. One night a week, the junior biology major and five classmates pack food (including spaghetti, chicken breasts, freshly made salads and home-baked cookies), pile into a van and deliver hot meals as well as heavy clothes and hygiene supplies to people at encampments around Cleveland.
"On Monday nights, we'll cook up a lot of food and drive out. We follow the same 40- mile route every week so that we see the same folks. Our goal is to build relationships. Mostly, we meet them right at their camps.
"The most important part of the ministry is talking to people. The food's important—they're hungry. But they don't have much positive contact with people. People tend to avoid making eye contact with them. So we talk.
"We'll talk about Cleveland sports or the weather. Well, we try to avoid talking about the weather [during the winter] because it's cold and we don't want to remind them. Sometimes we'll give them advice. The goal is to provide compassionate listening. For a lot of them, that's hard to find.
"I've been meeting this one lady the last three years, all through undergrad. Over time, she's really opened up to us. We helped her to get her birth certificate.
"If they ask for prayers, we'll lay hands on them and pray. It's beautiful.
"Sometimes running the program is difficult, but my team always reminds me: If we can just feed one person that otherwise would have been hungry, it's all worth it."
Paritosh Joshi is a student leader at a tutoring program at the Church of the Covenant as a Civic Engagement Scholar. On Saturday mornings, the sophomore joins 50 to 60 other college students from the area to offer individual instruction in subjects such as math, social studies and various sciences to up to 100 children from both urban and suburban communities in the region.
"This is going to sound clichéd, but I really do think education is the one thing that no one can take away from you. That's what's going to help you create success. [The students]are dedicated to coming because they want to learn. It's something I value because I like teaching people.
"It's so great when you see a student … leave with a [completed] homework sheet. They say, 'Thank you, no one ever explained it like this!' That's what I really enjoy.
"Career-wise, I'm majoring in sociology and psychology, but the thought of teaching has crossed my mind now. I've definitely thought about being a professor."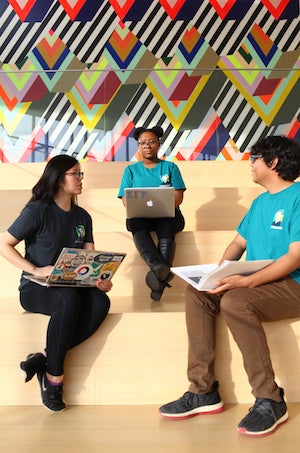 PHOTO: Michael F. McElroy
Sierra Lipscomb is a campus ambassador for Vote Everywhere, which is hosted at the university by the Center for Civic Engagement and Learning and is an initiative of the Andrew Goodman Foundation, which is named for the civil rights worker murdered by Ku Klux Klan members during Freedom Summer in 1964. The junior, a history and sociology major, works to mobilize students to vote and become civically engaged. As she knows, students majoring in some of the STEM fields (science, technology, engineering and mathematics) tend to have lower voter-turnout rates, which has been shown in research by Tu s University's Institute for Democracy & Higher Education.
"We brainstormed: What can we do to get the Case [Western Reserve] community politically engaged? So, we created this event, STEM & Politics, which we held at Nord [Hall, home of the Case School of Engineering]. We were very strategic in our focus. Our dialogue focused on the inseparability of STEM and politics in a way that was current, insightful and related to students' own passions as future professionals in STEM. Professors supported us and a lot of students came out. They had questions: 'How do I get engaged? How do politics affect me?' We were really pleased with that event.
"Since high school, I've always had a passion for voting and political empowerment—especially for people who look like me. I'm an African-American woman. At one point in time in our nation's history, neither African-Americans nor women were allowed to vote. So, I represent two groups that were historically disenfranchised.
"I also think that we have this right that is so underutilized. When I turned 18, the first thing I did was register to vote. A lot of young people say, 'That's what old people do.' No, you can vote. You need to vote!"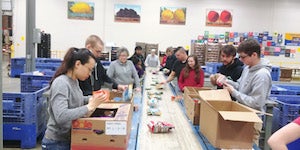 Will Koehrsen leads a CCEL Serves team that makes a weekly trip to the Greater Cleveland Food Bank, where the students sort and organize food donations. Koehrsen, a senior majoring in aerospace and mechanical engineering, began volunteering there during his first year on campus and grew into the leadership role.
"The Food Bank is a distribution center, so we're not serving people directly. We're usually just sorting through a lot of food, but it's still satisfying to know that what we are doing is going to help people. Last time, we packed backpacks—little bags of food that [Cleveland schools] students take home over the weekend, or otherwise they might not have enough to eat. Our team and the other volunteers regularly pack 8,000 meals in two hours.
"I started going as a freshman. I was sort of shy and I wanted to try volunteering, and CCEL led me to the Food Bank. I just started going and I liked the people I went with and I liked the people at the Food Bank. It's a really upbeat time.
"It's kind of encouraged me to read more about food and hunger in the United States. I grew up in abundance. There's so much wasted food … I've always been concerned about efficiency. What I like about the Food Bank is they're really bridging that gap. The problem isn't supply—it's distribution. That's really been enlightening."
Kristen Sanford volunteers at the Cleveland Animal Protective League (APL). The first-year student, who plans to major in psychology and communication sciences, is one of six students who visit the APL kennel in Cleveland's Tremont neighborhood to walk the dogs, hang out with the cats and wash puppies.
"It's important because dogs have emotions. They want to feel loved and connected—which they don't really get in an animal shelter. I enjoy this a lot.
"On the car ride back, we talk about what we do. It's really therapeutic for everyone. We all agreed on that. Because Case [Western Reserve] is a lot of work, it's good to get off campus and just take a break. And we're all pet lovers. I want to keep volunteering." Jeffrey Antoine volunteers for Asian Services in Action, a nonprofit group that helps refugees in Northeast Ohio. Once a week, the senior, who is majoring in psychology and Spanish, tutors children, many of whom recently arrived from refugee camps in Southeast Asia and Africa.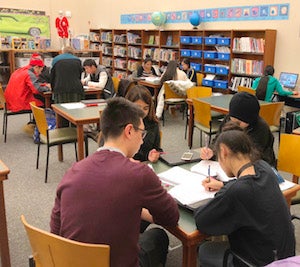 PHOTO: Robert L. Smith
Jeffrey Antoine volunteers for Asian Services in Action, a nonprofit group that helps refugees in Northeast Ohio. Once a week, the senior, who is majoring in psychology and Spanish, tutors children, many of whom recently arrived om refugee camps in Southeast Asia and Africa.
"I tutor mostly high schoolers. They're just in a different situation and doing their best. One of my students … has to learn French history and algebra, and he barely speaks English. I understand why he gets frustrated.
"I'm on a team of five. We talk on the way back and on the way there. We call it reflection. It's a good opportunity to talk about things you don't normally talk about: the education system, social injustice. Also, we're finding out we have more in common with these kids than we thought. When you interact with them, you don't think they're all that different. One of my students— he's got the same interest in anime, Japanese animation, as I do. So we have that in common.
"You definitely get a new perspective. How else would you learn about these cultures, about how these kids function in our system, and have a great time doing it? I'm connecting with people, with the students, with the other kids in my group. I love that.