LENS Health and Wellness
Rebuilding Faces
Dental Residents Treating More Patients with Traumatic Wounds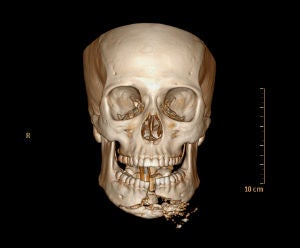 When a patient with a facial gunshot wound is rushed into University Hospitals (UH) Cleveland Medical Center, the operating-room team racing into action may include a surgery resident from Case Western Reserve School of Dental Medicine.
Operating-room work in local hospitals—from jaw and face reconstruction to facial plastic surgery—long has been part of the standard training for the school's oral and maxillofacial surgery residents. But now they're seeing many more trauma cases.
The volume began increasing in 2016, soon after UH Cleveland Medical Center was designated a Level 1 Trauma Center, meaning it began regularly treating patients with more difficult and extensive injuries— some requiring reconstructive facial surgery.
"Most of our residents would not have previously seen so many terrible facial injuries," said Dale Baur, DDS (DEN '80), professor and chair of the dental school's Department of Oral and Maxillofacial Surgery (OMS). "Now, our faculty and surgical residents are regularly treating these complex patients in the UH operating rooms."
The school also has partnerships with Cleveland Clinic, MetroHealth and the Louis Stokes Cleveland VA Medical Center, allowing surgical residents to work in all of Cleveland's major hospital systems on oral and maxillofacial surgeries.
One result is that residents leave the school with a broader range of experiences.
"As OMS surgeons, we understand how the teeth fit together, which determines how the jaw fits together, which determines how the face fits together," said Nick Levintov, MD, DDS, a fifth-year surgical resident. "I wanted to do this from the first time I observed this kind of surgery, and it's a privilege to do it."
Baur agreed.
"When you look into someone's face, it's not just tissue— it's looking into their person, into their soul," he said. "It makes a big difference when you can restore something that important."