LENS Sports
Unity on the Run
Cross-Country Teams' Camaraderie Helped Spur Success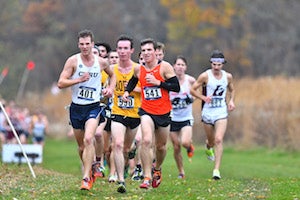 PHOTO: D3Photography
Last fall, a cancellation during a cross-country meet led to an unforgettable show of camaraderie by Case Western Reserve athletes.
After the varsity men's and women's races at the University of Rochester's Yellowjacket Invitational, race organizers canceled the open race—for runners who hadn't made the varsity lineups— for lack of competitors. But that left five men and five women from Case Western Reserve who had prepared for the meet unable to run, which could have jeopardized their chances to earn a spot on the university's travel team for the upcoming University Athletic Association (UAA) Championship.
So, Kathy Lanese, head coach for both the men's and women's teams, said she pulled all her runners together "and we decided to run a mock open race and treat it like a real race."
While athletes from the other competing schools gathered for the post-race awards ceremony, the 18 from Case Western Reserve who had run the varsity races stayed on the course, taking turns timing, pacing or merely cheering their teammates who ran like it was the real deal.
Runner Andrew Green went the extra distance to help Karthik Ravichandran, playing music on his phone as he paced his fellow sophomore. "The way our team got together, cheered me on and played music during our own open race really portrays how everyone really feeds off the overwhelmingly positive, but sometimes wild, team chemistry," said Ravichandran, who used the impromptu race to earn a spot on the travel team that advanced to the UAA championship two weeks later.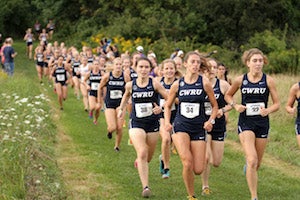 PHOTO: Lynn Shibiko
"I have run a lot of college cross-country meets, and I can safely say that I have never been more impressed by my teammates," said Sam Merriman, co-captain of the men's team and a senior majoring in engineering physics. He finished second in the men's race (the team was third), while Danielle Kulpins, co-captain of the women's team, finished fourth (the team finished second). Lanese gathered the individual and team awards while her runners cooled down after the mock race.
That invitational encapsulated what the 2017-18 cross-country squads were all about.
"It was an inspiring season," said Kulpins, a senior nutritional biochemistry and metabolism and Spanish major. "It didn't matter if you ran varsity or open. We pulled together as a team."
The togetherness began during a preseason team camp at a park near Athens, Ohio, where the athletes camped in tents, played games, told stories around the camp re and, of course, ran. "Teams that have better chemistry perform better," Kulpins said.
The teams also went beyond physical training to focus on men- mental training,using guided imagery, mindfulness practices and yoga to calm and focus themselves.
And they embraced training hours, Lanese said.
"They are family to me," she said, "and they treat each other like family."
SPORTS BRIEFS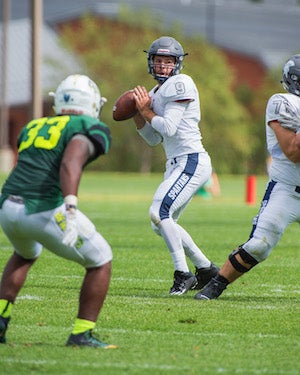 PHOTO: Steve Karanikos
The Case Western Reserve football team was 11-1, reaching the second round of the NCAA Players for just the second time in program history. Senior quarterback Rob Cuda was named Most Valuable Offensive Player of both the Presidents' Athletic Conference and the University Athletic Association (UAA).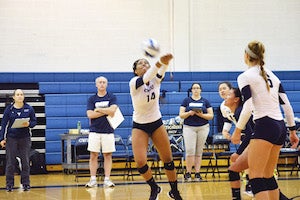 PHOTO: CWRU Sports Information
The university's volleyball team finished the season with a 19-12 overall record and won fifth place at the UAA Championship—led by All-UAA First Team selection Brianna Lemon (center), a sophomore—fiips.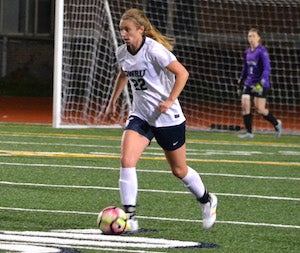 PHOTO: CWRU Sports Information
Senior Cody Calhoun was named to the College Sports Information Directors of America's Football Academic All-American First Team, while senior Elle Zadina, at left, was named to the Women's Soccer Second Team, for their achievements on the field and in the classroom.