LENS Business, Law and Policy
War Crimes
Former Prosecutor Teaches Law Students to Go After International Injustices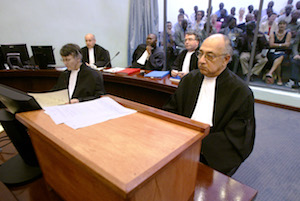 PHOTO: Special Court for Sierra Leone
James C. Johnson, JD, has prosecuted acts so venal and immense that they are quite literally crimes against humanity.
For nearly a decade, he was chief of prosecutions for the Special Court for Sierra Leone, where as many as 100,000 people were killed between 1996 and 2002 and thousands more suffered rape, sexual slavery or punishing amputations during the West African country's civil war.
"You're trying to bring some measure of justice to the many thousands of victims of these crimes and to their families and loved ones," said Johnson, who began working at Case Western Reserve University in 2013 and now is director of the School of Law's Henry T. King Jr. War Crimes Research Office and an adjunct professor of law. This spring, Johnson is receiving the school's 2018 Adjunct Professor of the Year Award for extraordinary teaching and contributions.
Students in the office's several programs can intern with an international criminal tribunal. They also can conduct legal research for prosecutors and judges in international and domestic criminal courts, and in tribunals focused on atrocities in Rwanda, Sierra Leone, Cambodia, Lebanon and other parts of the world.
Before coming to the university, Johnson was a judge advocate (a military lawyer) in the U.S. Army for 20 years. His work included prosecuting crimes and advising commanders and service members in the laws of war. At the Special Court for Sierra Leone, he oversaw investigative and trial teams, including the one that prosecuted Charles Taylor, the former Liberian president who was sentenced to 50 years in prison for his involvement in the Sierra Leone civil war.
After Johnson returned to the United States, his longtime colleague, Michael Scharf, JD, now co-dean of the law school, invited him to work at the school. Scharf had established the law school's war crimes research office in 2002 and is renowned for work involving international prosecutions and tribunals.
Johnson already knew the office and its work. Students there had helped him conduct research at the Special Court for Sierra Leone. Now he's teaching them.
Alexandra Mooney, a third-year law student who plans to enter the Navy Judge Advocate General Corps after graduating, credits Johnson with "opening my eyes" to such work.
During her time at the law school, Mooney interned with the International Criminal Court, working on the defense side. She later wrote a paper for one of Johnson's classes about issues facing the court from that perspective. "Every time I'd give him a draft ... he'd counter with the perspective of the prosecution, and it ended up being a very dynamic learning experience," Mooney said.
"When he says 'this is the way things are in international law,' it's not because he's read it in a book," she added. "He's ... somebody who's been out there practicing."