CONNECT
From Captivity to Storytelling
Alumna Kiyo Sato shares her story of forced internment in World War II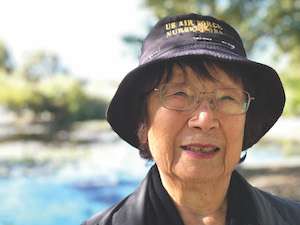 PHOTO: Courtesy of Lisa Sato-Wheaton
When Japan bombed Pearl Harbor Dec. 7, 1941, Kiyo Sato's world fell apart. Her Japanese-American family instantly became "alien enemies" of the United States. FBI agents interrogated her father. Sato's Caucasian junior-college classmates stopped speaking to her. At night, while her younger siblings were asleep, Sato and her parents stayed up planning for what they called the "train trip"—the family's forced removal from their Sacramento fruit farm to a Japanese internment camp in Poston, Arizona.
Camp conditions were harsh—scorching temperatures; communal pit toilets; "wages" of $12 to $16 a month for a doctor. At times, Sato despaired, but she, her parents and others in the camp found ways to protect the younger children from the harsher realities of life there, with baseball games and other activities. Seven of her eight siblings were there. Meanwhile, Sato's brother Steve, who had volunteered for the U.S. Army, was stationed in Missouri.
The memories are indelible, and Sato (NUR '48) has made it her mission to live a life based on the enduring lessons she learned from her parents, particularly during the awful days of internment: that children come first.
She spent her career as a nurse and adopted four children who opened her eyes to the hardships of kids in foster care. Today at age 96, she lives in Sacramento and still gives talks about her time in Poston to educate younger generations about this ugly chapter in their country's history "so that we will not repeat our mistakes."
Sato began publicly speaking about her internment during college, after a Baptist group helped her leave Poston after six months and attend Hillsdale College in Hillsdale, Michigan. "I haven't stopped speaking since," she said.
Sato aimed to become a registered nurse. But three universities—including Western Reserve University—denied her admission, each claiming they couldn't admit students of Japanese descent, according to her memoir.
She later reapplied and attended Western Reserve's Frances Payne Bolton School of Nursing in the U.S. Cadet Nurse Corps program, created by Congress during World War II to ensure the nation had enough nurses at home and on the frontlines.
Sato did become an RN, earning a master's in nursing and a certificate in public health nursing from the university, and later served in the U.S. Air Force during the Korean War, with postings in the Philippines and Japan. "America was my country and I wanted to serve," said Sato. "The same for my [five] brothers, who all served in the military."
Sato returned to Sacramento, where her work as a public-health nurse included administering vision and hearing screenings. But frustrated with the standard test, Sato developed the Blackbird Vision System in the early 1980s, modifying the uppercase E into a stylized bird to better screen nonverbal, nonliterate and non-English speaking preschoolers. She still administers it periodically in schools and libraries.
In 2007, Sato published her memoir now titled Kiyo's Story, which won a 2008 William Saroyan International Prize for Writing, an honor jointly awarded by the Stanford Libraries and the William Saroyan Foundation.
Sato's service as a nurse in the Korean War is featured in the new teen book Women in the Military: From Drill Sergeants to Fighter Pilots by Connie Goldsmith. "The fact that Kiyo served in the U.S. military after the government incarcerated her and her family during WWII inspired me to include her," Goldsmith said. "Her father's wish for his children to be good citizens has been a cornerstone of Kiyo's life."
Deep Connections
At Western Reserve University, Kiyo Sato was part of the U.S. Cadet Nurse Corps. That 1943 initiative was created under legislation introduced and championed by Ohio Rep. Frances Payne Bolton, who already had a deep connection to nursing. Two decades earlier, Bolton provided a landmark gift to Western Reserve to establish one of the first independent college-level nursing schools. In 1935, it was renamed the Frances Payne Bolton School of Nursing.