LENS
An Enduring Collaboration
Uganda-CWRU initiative fighting diseases and building capacity for 30 years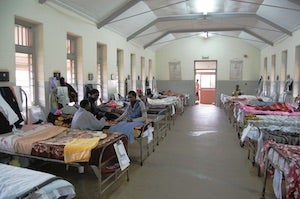 PHOTO: Courtesy of Alexander Boom
By the early 1980s, Uganda had become the epicenter for the HIV/AIDS epidemic. To help combat the deadly scourge, Uganda's president reached out in 1986 to Frederick Robbins—a Nobel Laureate who spent decades at Case Western Reserve as a pediatrics professor and later as dean of the School of Medicine. The visit and recommendations by Robbins, who
"Little did any of us imagine that [Frederick Robbins'] vision would carry us through 30 years. The outstanding work of our collaborators in Uganda and across CWRU is humbling to reflect upon."
—

Janet McGrath, PhD, a professor of anthropology and the longest-serving collaboration member from the university
died in 2003, led to the creation in 1988 of the Uganda-CWRU Research Collaboration. The venture marked its 30th anniversary with celebrations in Cleveland and Kampala. It remains a vital force with many accomplishments that include providing care to more than 25,000 adults and children in its HIV and TB prevention and treatment studies. Now the collaboration is taking the expertise and infrastructure it's developed to broaden its focus to include cardiovascular diseases, diabetes, head and neck cancers, and other conditions. "Our collaboration is truly a partnership; we work shoulder to shoulder," said Robert Salata, MD, professor of medicine at CWRU, physician-in-chief at University Hospitals and a collaboration member for 25 years.
The collaboration has:
Conducted first HIV/AIDS vaccine clinical trial in Africa
Produced more than

350

peer-reviewed joint publications, some leading to the advance of life-saving treatments
Managed more than

50 clinical studies

involving HIV/AIDS and tuberculosis
Launched state-of-the-art HIV and tuberculosis labs at Makerere University and the Joint Clinical Research Centre
Received grants for more than

100

Ugandans for graduate degrees or technical training. Many of those students went on to attain leadership positions in the Ugandan Ministry of Health, Makerere University and major nongovernmental organizations. More than 50 of the 100 are CWRU alumni.
Played a key role in reducing the prevalence of HIV in Uganda from 35% in the early 1990s to around

5%

in recent national surveys
Awarded more than $200 million through

100 grants

from government agencies, foundations and private sponsors
Initiated key research and intervention studies to prevent mother-to-child transmission of HIV
The partnership includes Case Western Reserve, Makerere University, Mulago Hospital and the Joint Clinical Research Centre in Kampala. At CWRU, the work is centered at the School of Medicine but also involves the College of Arts and Sciences, the Case School of Engineering, the School of Law and the Frances Payne Bolton School of Nursing.