LENS
Constitutionally Bound
The law school's Jessie Hill is a national go-to expert on First Amendment and reproductive rights issues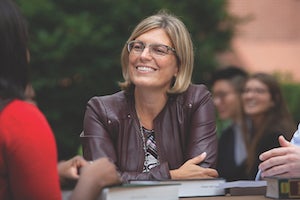 PHOTO: Annie O'Neill
With an undergraduate degree in comparative literature from Brown University and fluency in French and German, Jessie Hill was destined for a literature professor's life—or so she thought. But she pivoted to Harvard University and a degree in law. Today, Hill, JD, is associate dean for academic affairs and the Judge Ben C. Green Professor of Law at the Case Western Reserve School of Law. She's a constitutional law scholar and litigator whose work has been cited in law review articles more than 100 times and who has written for scotusblog.com, a well-regarded blog about the U.S. Supreme Court. She's also an internationally recognized expert on reproductive-health law issues, religious freedom and civil rights. At the law school, Hill teaches, writes and oversees the Reproductive Rights Lab. Why that focus? It just may have something to do with her education at an all-girls Catholic school.
Why constitutional law and, specifically, reproductive rights and religion?
I've been interested at least since law school in constitutional law, and was interested in and worked on women's issues in college. I landed on reproductive rights as an area that's at the intersection of those two. I've always been interested in exploring how the law should deal with areas that are so profound to people's personalities and concepts of themselves.
Where does that come from?
I don't know. I was raised in a traditional Catholic household and immersed in a religious tradition that has very strong views of sexual morality. I also attended an all-girls Catholic high school [in Cincinnati] that had a feminist ethic of promoting girls and professional achievement for girls and women, and that taught students to question what they learned. I think that's a really interesting combination and maybe that's part of it.
Was law the goal all along?
No. I went to graduate school for comparative literature. I was on a PhD track. But for a lot of different reasons, it was not the right path for me, and law was a default choice because I had lawyers in my family who always thought, 'Oh, you're going to law school.' I felt like, worst-case scenario, I'll be a [practicing] lawyer; best-case scenario, I can be a law professor, because I was really drawn to the academic setting.
What have your students done in the lab?
They work on real-life legal projects that I solicit from various reproductive-rights organizations nationally, so it depends on what research the [groups] need. One of the themes this year: Everybody's trying to figure out what they are going to do if Roe v. Wade is overturned. So, I had a student researching what happens to the court orders that are currently in place, blocking pre-Roe abortion bans from taking effect. And then what is the power of local governments in the area of abortion regulation? I had students looking at issues around women under 18—their access to abortion in Ohio. I had someone working on researching restrictions of midwifery practice in Ohio and making recommendations on ways to increase access to midwives.
What are you most proud of?
A lot of my reproductive rights work—that I've helped to build a network of reproductive justice advocates here in Ohio, that I've had the opportunity to work on cases that change policy here and that I've created opportunities for students to work on these issues.