LENS
Creepy or Helpful?
Where consumers draw the line on online ads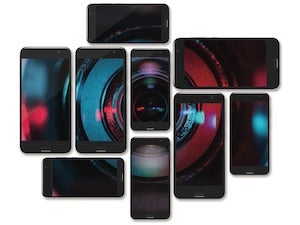 Casey Newmeyer was on vacation researching her next beach getaway when something strange happened. About an hour after she Googled a destination, an ad for the same place popped up on the Facebook page of one of her traveling companions. Newmeyer, PhD, an assistant professor of marketing at Case Western Reserve's Weatherhead School of Management, said it's likely Facebook knew her location and who was with her based on her social media activity, which included tagging friends in her vacation photos.
As an academic who studies how companies use consumers' online information to deliver personalized messages, Newmeyer was more surprised than shocked. But she knows there's growing ire over how companies mine data that consumers knowingly and unknowingly provide, not only through their internet searches but also even through their use of cars, thermostats and refrigerators.
Last year, Newmeyer co-authored a book chapter, "Creepy and Intrusive: A Consumer's Perspective of Online Personalized Communications," that dove into the subject, examining the interplay between consumer control and company transparency—and the lack of either one. The co-author was Arlonda Stevens, PhD (GRS '16, management), a vice president at a financial-services company, whose dissertation research provided the foundation for the chapter.
Consumers have different standards for what's "creepy," the authors write in their chapter for Contemporary Issues in Social Media Marketing. And where consumers draw the line can change as they become more—or less—accepting of the growing information that companies collect, use and share.
For example, shoppers may be fine receiving coupons with their grocery-store receipt that reflect their purchasing history, wrote Newmeyer and Stevens. But their skin might crawl if they receive "welcome home" emails from a local Italian restaurant after a vacation in Rome.
Companies can increase consumers' trust by being transparent—that is, providing clear details on how they use their information and ways for customers to opt out of data-collection activities, Newmeyer said.
"Right now, a lot of our feelings of creepy are coming from the fact that we don't understand how our data is being collected, stored or used," Newmeyer said. "And the unknown makes us feel worse."