LENS
Expanding Community Dental Care
New clinic building to provide enhanced services at patient-friendlier location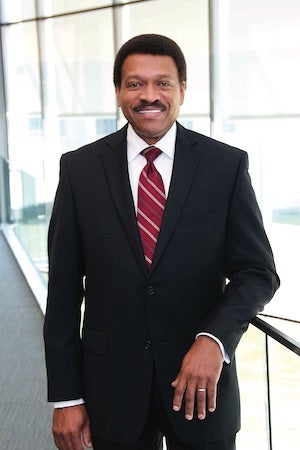 PHOTO: Daniel Milner
Kenneth B. Chance, DDS (DEN '79), grew up in a Bronx, New York, neighborhood seeing intelligent, upstanding people judged, he said, "by the way they looked and not the content of their character" because they were missing teeth. That's why he decided to become a dentist: to help improve lives.
Now, as dean of Case Western Reserve's School of Dental Medicine, he's overseeing the development of an ambitious new clinic intended to bring more care to more people. That facility—slated to open in June—sits on the Health Education Campus, a joint project of the university and Cleveland Clinic. It is across the street from the new Sheila and Eric Samson Pavilion, where students from the university's dental, nursing and medical schools—including Cleveland Clinic Lerner College of Medicine—will be educated under one roof. The dental school's sturdy-but-aging clinic on the university's main campus served about 27,000 patients annually—both on-site and in the community.
The new clinic building has advanced technology and the ability to handle evermore complex cases. It also feels like a professional facility with its airy, light-filled spaces. Think magazine spoke to Chance about the new space—and its emotional resonance.
"The clinic is my dream—because we get the opportunity to really make a difference in people's lives," he said.*
What's an example of the clinic's new technology?
3D printers with scanners where you can provide same-day dentistry or same-day prosthesis. If you want to construct a crown for the mouth, it can be constructed within one day with 3D, where [until recently] patients would have to make multiple visits. To have that technology available will be a game-changer for us.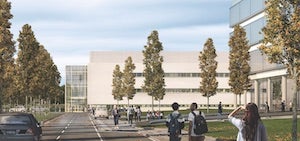 IMAGE: Meshroom
How significant is the move from a tucked-away location on campus to a prominent site on Chester Avenue?
That's also a game-changer because Chester is a major thoroughfare and we'll have convenient, dedicated parking for patients. We're also in the historic Hough neighborhood, which is an underserved area not unlike the neighborhood that I was born in southeast Bronx. It's important to us that we're servicing many communities, particularly one that's within our grasp. We are not a clinic just for that neighborhood. We are a clinic that reaches many communities—those that are more affluent, those that are farther away than our school—but we take on responsibility for individuals who are in underserved areas.
Can you describe the clinic's layout and services?
On the first floor, there will be a faculty-practice clinic for complex conditions. Examples would be full-mouth reconstructions requiring a series of complicated procedures because of severe damage to hard and soft tissue. On the first and second floors, there are postgraduate specialty programs that train our residents who have already graduated from dental school to provide moderate to complicated care, such as complex root canals or replacement of missing structures in the mouth. On the third floor, our students in the DMD [Doctor of Dental Medicine] program will provide care for less-complicated conditions. That could include fillings and cleaning the teeth of patients who have gingivitis.
What's new at the clinic?
We received a gift from STERIS Corp. and STERIS Foundation for a world-class center that will provide the highest level of sterility and disinfection in any dental school in this country and rivals any hospital. It will be in the lower level [and will sterilize equipment and tools used in the clinic]. We also will have two ambulatory oral and maxillofacial surgical suites that will provide treatment benefits to the public like we've never had before.
*This interview was edited for length
The School of Dental Medicine provides care to people across Northeast Ohio—and beyond. Its clinics and community initiatives include the following:
ON-SITE CLINICS:
Advanced Endodontic Clinic

Bill and Chloe Cornell Pediatric Dentistry Clinic

Craniofacial Orthodontic Clinic

Delta Dental Advanced Education in General Dentistry Clinic

DMD Comprehensive Care Clinic

Faculty Practice Clinic

Oral and Maxillofacial Surgery Clinic

Oreste D. Zanni, D.D.S. Periodontics Clinic

Orthodontic Clinic

The Orofacial Pain and Oral Medicine Service
PROGRAMS THAT TRAVEL TO PATIENTS:
Healthy Smiles Sealant Program travels to Cleveland schools to provide dental exams and cavity-preventing sealants on children in grades 2, 3, 6 and 7.
Head Start Dental Program provides dental care largely to children in Head Start and other school-readiness programs.
Lifelong Smiles Program delivers dental care to seniors in nursing and assisted-living facilities, and health centers, using a large van and mobile equipment.
Ronald McDonald Care Mobile is a program with a dental van operated by the school and University Hospitals Rainbow Babies & Children's Hospital that provides dental care to children ages 3 to 18 in Head Start programs, schools and health clinics.
The new School of Dental Medicine Dental Clinic building at a glance:
3 floors plus a lower level

132,000 square feet

June scheduled opening

DLR Group|Westlake
Reed Leskosky architect

120 patient parking spaces


The current clinic's annual impact:
$5 million in free care to the community

19,000 patients seen on-site, on average

8,000 patients seen in the community, on average

60,000+ patient visits