LENS
Going First
A new campus group aims to help students who are trailblazers in their families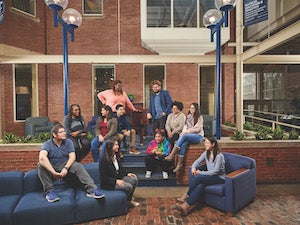 PHOTO: Roger Mastroianni
When Fatima Rahman enrolled in college, she was a pioneer—the first in her family to do so. Soon, she became a new kind of catalyst at Case Western Reserve University.
Rahman arrived in fall 2017, assuming there must be others like her on campus: students "sent" to college with great expectations, few resources and little warning of what was to come. Seeking to help herself and others, she was a founding organizer of First CWRU, a student group that supports first-generation students.
"It's really easy to feel like you're the only one who doesn't get it," Rahman said. "That whole feeling of 'Do I really belong here?' is something I ask myself all the time. But there's a lot of us. And now we can help each other."
About 10% of the university's undergraduates are first generation (their parents don't have college degrees, but may have taken courses)—and helping them feel supported, guided and understood is critical.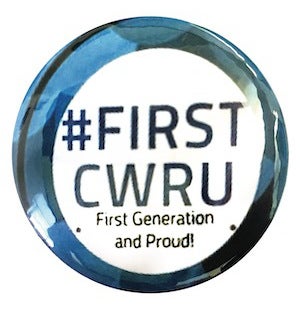 "Most parents see the value in college, but maybe can't help with the transition because they never experienced it," said Janée Kelly, assistant director for retention and graduate outreach in the university's Office of Multicultural Affairs and the group's adviser. As a result, first-generation students are more likely to feel lost, stressed, out of place or overwhelmed.
"It's not enough for us to say, 'We're available for questions,' " Kelly said. "They don't know what questions to ask."
In one of its first actions, First CWRU created a sticker that faculty can post on their doors, stating: "I support first-generation students. Come in and let's figure it out." Student organizers also worked with the university on a lunch-and-learn for staff and faculty to explain the challenges facing these students, and a luncheon for first-generation families during fall orientation.
In the future, group members hope to create an emergency fund and scholarships for first-generation students and serve as mentors and tutors to teens in the Cleveland schools.
We talked with four members about their experiences.*
*The conversations were edited for length.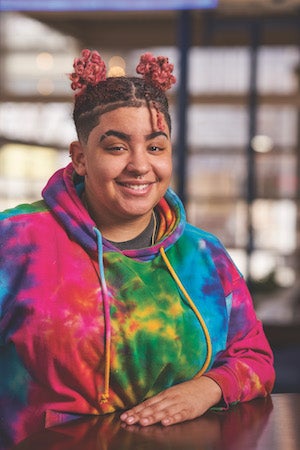 PHOTO: Roger Mastroianni
Jada Harrison, a first-year student considering a major in cognitive science, was 5 when she entered the foster care system. The Cleveland native has lived without a parent since age 13, when her adoptive mother died. In recent years, she lived in succession with three adoptive or biological siblings. She's served as vice president of First CWRU and has set her sights on earning an MD and PhD, and becoming a psychiatrist and psychopharmacologist.
"I didn't have the best experience in foster care. But school was always something I could hold on to. I would lose belongings from home to home. But no one could take away what I learned in school. So, I was always a passionate student. I love learning for the sake of learning.
"My adoptive family supported my education. Before my mom passed away, she made me promise I would go to college and graduate, so I do have to follow through.
"Other kids, when they go to college, their parent can tell them how things work. First-generation students, we have no idea. Financial aid? No one knows how to apply, how to read that package.
"There's just a huge cultural change also. You're thrown into water where other kids have the ammunition to do well, and you're lost. Sometimes you wonder if you should be here. If no one else I know can do this, how am I supposed to?
"Then I think to myself: Everyone has to start somewhere. I could either be an example or I could become another statistic. My mom set me up well; she brought me this far so I could further myself. "I've kind of had to be brave my whole life. But being a college student, it takes a different kind of bravery. When you come to college, you're an adult. When you're first generation, you're navigating around kids who don't have to be an adult; not all the time. They can go back to their parents to ask for guidance about school.
"I want First CWRU to do community outreach—talk to first-generation kids in high school. I represent a lot of marginalized people. I'm a foster kid. I'm a black woman. I'm a lesbian. I have a lot of people looking up to me. I want to show kids they can do this. They can succeed in an environment that wasn't necessarily made for them."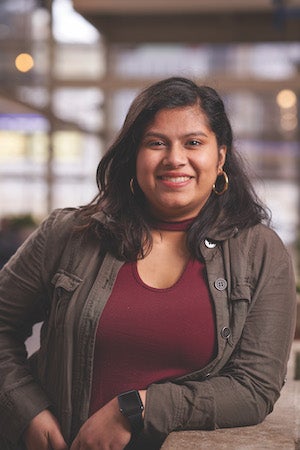 PHOTO: Roger Mastroianni
Fatima Rahman, a second-year international studies major from New Orleans, is a lead organizer of First CWRU and its first president. Her mother brought her to the United States from Honduras as an infant and pushed her toward college. Now, she wants to go to law school. Before Rahman came to campus, she thought most first-generation students at the university would be people of color.
"My mom, she didn't have a chance to finish high school. I had to figure out how I'm going to get to college and succeed. She said, 'Ask questions. Figure it out.'
"When [the university] offered me a scholarship, she said, 'You're going.' She said: 'I brought you to this country to go to college. I don't know how you're going to do it, but you're going.'
"That's hard. You're scared. But I was always taught by my mom [that] if you need help, ask for it. How do you ask questions without feeling afraid?
"When I came here, there was this girl in my dorm who I started studying with. We would be up till 3 a.m. studying, and it just seemed like we had so many little things in common. I didn't know why.
"We had these classes we both thought were really hard, and some of our classmates thought they were easy. Some would even say, 'I had this in high school.' And one time she said to me, 'My high school didn't even offer this class.' And I said, 'You're first generation!'
"And she said, 'You too?'
"We both went to high schools where most kids don't go to college. That took away my blinders. She is white and I realized that there's a lot of working-class kids here of different races. There's more of us than I knew. That's when I thought: There's a need for a group like this.
"I started talking to administrators [during my first spring on campus]. I said, 'There's a legacy lunch; why isn't there a first-generation lunch?' They were super supportive.
"At orientation this year, there were panels for first-generation families. Seeing a lot of families, how excited they were to have this, made me realize how much we all need it.
"It's become something that I'm really proud of."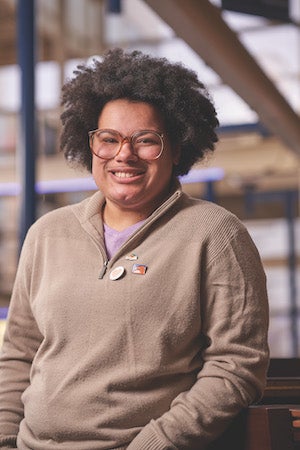 PHOTO: Roger Mastroianni
Calvin Gibson is a third-year sociology major from Cincinnati and has served as First CWRU's secretary. He aims to earn his PhD and become a researcher who helps impoverished schools work better for their students. His mom, who took some college classes in Texas and is a licensed practical nurse, is a partner in his education quest. He looks forward to the day he can help support her financially.
"I was home-schooled until I hit seventh grade because of issues with my dyslexia. That's when my mom sent me to public school because she knew it would help me more than she could. She knew her own limits. Before this, like most children, I thought my mom had no limits. So it was an eye-opener for me.
"I think college is a lot harder for first-generation kids. For me, it's really trying to navigate a system that's very different. I have to do more legwork, more investigative work. I have to make a guidebook for myself as I go along. It's not insurmountable, but it takes more time.
"I want to pass on information to other first-generation students. I realize I missed some opportunities as a freshman.
"There was a program at the career center that connects you to alumni and is only open to freshmen and sophomores. I want to invite someone from the career center [to a First CWRU meeting] to explain that you should go in as a freshman to get services and start exploring.
"I saw a flyer saying there was going to be a meeting for a first-generation club. I was really excited to meet other kids like me. My friends are supportive. But the support and perspective they offer isn't always in line with the issues that I have.
"[First-generation students] have to work a little harder. I have to have a job or I don't have textbooks. I can't take an unpaid internship. It's mostly around money where the real gap is.
"I think outreach is really important. I want to talk to local [seventh- through 12th-graders] and help these kids know there are students just like them, and a group that can help them. I want to tell them, 'You've maybe put your dreams aside for a barrier that's not really a barrier.' "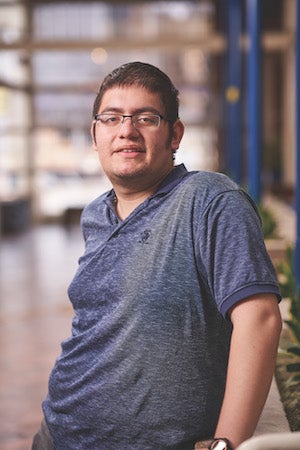 PHOTO: Roger Mastroianni
Andrew Jimenez is a fourth-year student from Los Angeles, a First CWRU member and this year's president of La Alianza, the Latinx student organization on campus. He is earning a degree in mechanical and aerospace engineering and plans to stay at the university for a master's degree in mechanical engineering.
"I lived with my grandmother my entire life. She gave me everything. She always pushed me to go higher—to go to college. And through my high school, I got the resources to apply to Case [Western Reserve].
"My grandmother can't speak English, so I had to do everything myself—filling out applications, gathering the FAFSA [federal financial-aid form] information. When I got to [the university], any little thing, I had to manage myself. I was truly independent at an earlier age than other people.
"I got used to it. But my freshman year, it would have been a lot easier to go to a group where people understood—to talk and figure it out. Even if it's just, 'Let's get together and fill out a FAFSA,' that would definitely help.
"I think first-generation students never know when it's the right time to ask for help because they always had to do it on their own. When I talk to my peers, they always say, 'My mom and dad did that.' I can't say that.
"I've always been involved. At my high school, I started a first-generation/Latino group. When I came to Case [Western Reserve], I looked for that kind of a group. I found La Alianza. A lot of us are first generation. So, if I had a question, I would take it to that group, even before I went to an administrator.
"But not all first-generation students are Latino. Now, First CWRU is going to bring us all together. At orientation this year, they had a first-generation lunch. It was an emotional moment. Parents were saying goodbye to their first child to go away to college. I remember when I came, my grandmother and I flew here with everything I could pack into two suitcases. I think she was more emotional than I was. She cried. She said: 'Make sure you eat. Study hard.'
"We talked on the phone nearly every day for the first couple of weeks. Now we speak maybe twice a week. But we still text each other every day to say good night."