LENS
Making Our Mark
Things that move, excite and inspire us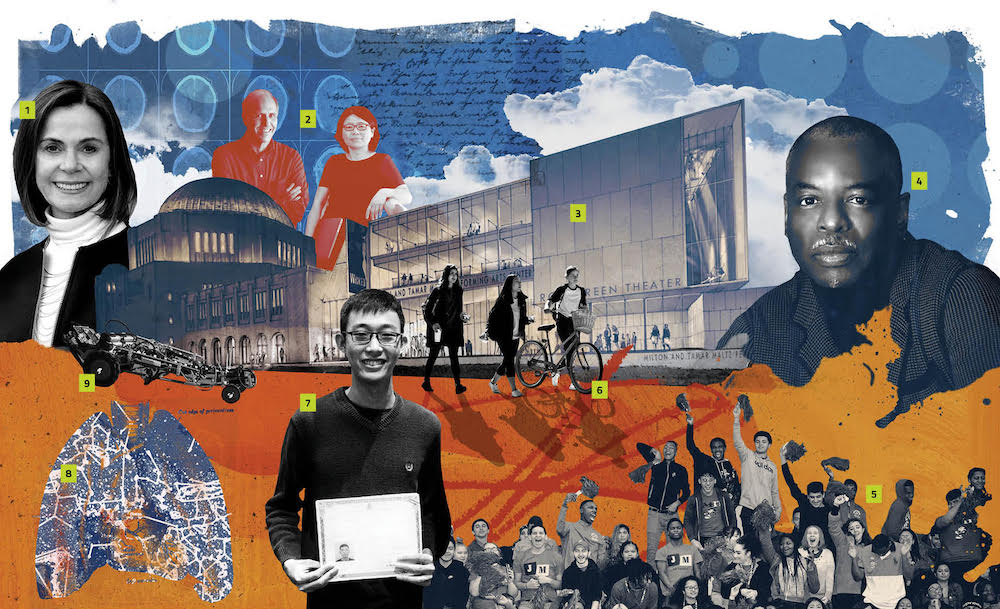 IMAGE SOURCES: 1. MICHAEL SANDS; 2. CWRU SCHOOL OF MEDICINE; 3. DLR GROUP|WESTLAKE REED LESKOSKY; 4. 1SHOTBYJULES; 5. SAY YES CLEVELAND; 6. ANGELO MERENDINO; 7. CWRU CENTER FOR INTERNATIONAL AFFAIRS; 8. IMAGE FROM XIANGXUE WANG AND ANANT MADABHUSHI OVERLAID ON A LUNG ILLUSTRATION; 9. AMAZON
1 Preparing Leaders
A $5 million gift from alumna Marian Shaughnessy and her husband, Michael, is creating an academy at the Frances Payne Bolton School of Nursing to foster and support a new generation of nurse leaders to deliver care and create and implement health policy.
2 Disease Sleuths
The National Institute on Aging awarded $14.6 million to a national collaboration—led by School of Medicine Professor Jonathan Haines—that expands the representation of African-Americans and Hispanics in Alzheimer's research, and $5 million to Rong Xu, an associate professor at the school, for projects that use big data and advanced artificial intelligence to better understand the mechanisms of Alzheimer's.
3 Cue Act II
Philanthropist Roe Green committed $10 million for the next phase of renovations at the university's Milton and Tamar Maltz Performing Arts Center. The project includes a new proscenium theater to be named for Green.
4 Honoring an Artist
The Inamori International Center for Ethics and Excellence will award its 2019 Inamori Ethics Prize to actor LeVar Burton, known for his work in Roots; Star Trek: The Next Generation; and Reading Rainbow, for using his talent and influence to promote and support children's literacy and AIDS research.
5 Forging a Path
Say Yes To Education, a national nonprofit that partners with communities to make college accessible, selected Cleveland for its latest joint initiative. It will provide services for K-12 students in the city's schools to help them succeed after graduation, while a locally raised scholarship fund will be used for postsecondary tuition at schools, including CWRU.
6 An Eco-Friendly Campus
The Princeton Review included the university on its "Top 50 Green Colleges" list for the first time, ranking us 35th.
7 New Citizens
The Center for International Affairs hosted its first naturalization ceremony. The 28 participants, representing 21 countries, included Lucas Zhao, a first-year student.
8 Smart Imaging
Prevention Magazine's 10 most incredible breakthroughs of 2018 included biomedical engineering Professor Anant Madabhushi's method for training computers to quickly and accurately predict from tissue images whether people with lung cancer would benefit from chemotherapy.
9 His Brain, Her Voice
Amazon named first-year student Austin Wilson an Alexa Champion for using the company's virtual assistant in numerous innovative ways, including to control the movement of a K'NEX toy car.