CONNECT
A Piece of the Rock
String of campus concerts struck lasting chord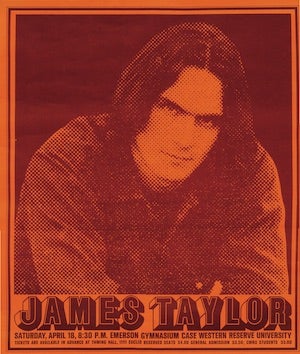 If Cleveland's claim as the "rock 'n' roll capital of the world" is so, then Case Western Reserve certainly contributed. The lineup of bands and solo artists who have performed on campus—especially from the mid-1960s to mid-'70s—could fill a floor or two of the Rock & Roll Hall of Fame just 15 minutes away.
Performers included Pink Floyd, James Taylor, The Allman Brothers Band, Lynyrd Skynyrd, The Kinks and Genesis.
For alumni who helped book many shows as students, the experiences and memories remain indelible decades later.
"It put C-Dub, as we called it, on the map," said Marc Pearl, JD (ADL '72), now president and CEO of the Homeland Security & Defense Business Council in Washington, D.C.
"We learned by doing it," said Jonathan Poole (ADL '70; GRS '72, education; MGT '73), who owns and manages apartment buildings in New York City. "You're 21 or 22 years old and you had all these opportunities," Poole added.
Poole picked up Taylor at the airport and then took him to his Cleveland Heights apartment to hang out before the concert, while Pearl became lifelong friends with Taylor's brother, Livingston, after he separately performed on campus.
The trick for the bookings was keeping ticket prices affordable.
For the Allman Brothers concert at Emerson Gym in 1971, student tickets were $2.50 and $3; non-students $3 and $3.50. The band's fee was $2,500 for a 75-minute performance, according to the contract signed by Duane Allman, who was killed in a motorcycle accident just eight months later.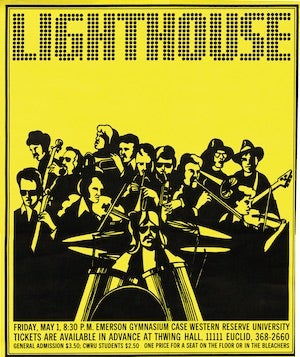 "Turnout varied," Poole said. "If you had a decent act, attendance was usually pretty good."
Maybe too good? One reviewer for The Observer, the student newspaper, called Pink Floyd's performance in 1971 "the best concert ever." Another ripped planners for cramming an estimated 3,000 fans into Emerson: "... people were standing eight to 10 deep in the exit doors and more were sitting in the lobby."
Even so, staging concerts "felt like more than just a gig," Pearl said. "It was a great outlet for the student body and it was nice to feel like you were contributing a little bit."
We've Got the Beat
The bands and individual artists who have performed at CWRU include:
Ray Charles (1966)
The Butterfield Blues Band/Tim Hardin opened (1968)
Sly and the Family Stone (1968)
Judy Collins (1969)
Tom Paxton (1969)
James Taylor (1970)
Lighthouse (1970)
Laura Nyro/Livingston Taylor opened (1970)
Pink Floyd (1971)
The Allman Brothers Band/comedian David Steinberg opened (1971)
Hot Tuna (1971)
The Kinks (1972)
Genesis (1973)
Fleetwood Mac (1973)
Bonnie Raitt (1974)
Lynyrd Skynyrd/The Charlie Daniels Band opened (1974)
New Riders of the Purple Sage (1974)
Eddie Money (1977)
The Guess Who (1987)
Violent Femmes (1998)
They Might be Giants (2007)
Goo Goo Dolls (2011)
Passion Pit (2013)
OK Go (2014)
Do you have unforgettable memories of campus concerts? Please write and tell us about them at sandra.livingston@case.edu