CONNECT
Steeped in Art
The unlikely route of Numi Tea co-founder from science to arts to entrepreneurship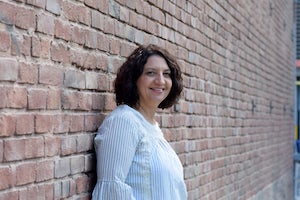 Reem Rahim's transformation into a tea mogul started on the day her life nearly ended. Rahim (CWR '90) was on a road trip to New York City during her junior year at Case Western Reserve University when the car she was riding in inexplicably flipped multiple times; Reem's legs were crushed—saved from amputation only by a 12-hour "miracle surgery," she said.
A passionate dancer and captain of the university's women's tennis team, she dove into rehabilitation, intent on reclaiming those pursuits—despite being warned she might never walk again. While she was back on the tennis courts in six months, her long-term perspective had changed. After working briefly in biomedical engineering (her major in college), she thought: "You know, you only have one life—and this is not what I want to do."
As she worked to redefine herself, painting—another longtime passion—offered a therapeutic respite. "Internally, I was trying to cope with what was going on, and the scars on my legs and feeling limited—and all the sort of self-sabotage that you do," Rahim said. "Art really saved me, in that sense."
After two years of art school in Florence, Italy, she began working on a Master of Fine Arts degree in the San Francisco area. There, she began hatching her next step with her brother, Ahmed, who had operated teahouses in Prague: What if they started importing and selling the dried lime tea they drank as children in their native Iraq?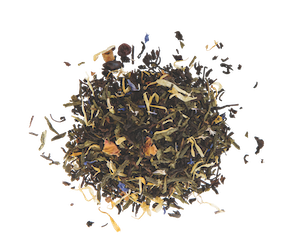 Numi (named after that tea) launched in 1999 in Rahim's 700-square-foot apartment. The siblings defined their roles in the startup poetically: "She's the artist, he is the alchemist," states the company website, with Reem—who is chief brand officer—designing the packaging and Ahmed mixing the blends.
"In the beginning … we were learning everything from scratch," she said, even how to get an envelope of tea into a box and out to the market. In the company's third year, a cover story in a key trade magazine helped the duo move from selling directly to supermarkets to selling to distributors, which led to greater market expansion. As business picked up, the company added new flavors, expanded to the first floor of a house, then a 5,000-square-foot warehouse and then a 25,000-square-foot space.
Today, Numi Organic Tea, headquartered in Oakland, California, has 40 employees and sources its teas from around the globe. Its products are available in more than 30 countries and carried by retailers, including Whole Foods and Walmart. And now, the company is expanding beyond tea with a line of "daily super shots," which are 2-ounce drinks containing fruits, herbs and spices, each with a different purpose and name such as "energy lift" and "immune support." Other wellness products are in the works.
As the company has grown, so too has its social mission. In 2007, it started the Numi Foundation. That nonprofit's key initiative, "Together for H2OPE," has built 23 wells to bring desperately needed clean water to villages in Madagascar, where the company purchases its turmeric teas. The foundation also provides sanitation training, and builds wells and latrines in Assam, India, where the company purchases black teas.
In addition, the foundation created nature and arts educational programs that it brought first to inner-city schoolchildren in Oakland and then to at-risk youth in Iraq. The program's hands-on gardening work connects students with the earth and the idea of growing food, while its art projects involving painting, mixed media and sculptures show students the power of self-expression—a lesson that's deeply personal. "We want them to be able to cope and evolve through art," Rahim said.