lens
Students Who Served
From military experiences to academics
The Case Western Reserve community includes students who have served in the military. Think spoke with six of them about their experiences and the impact on their lives and studies.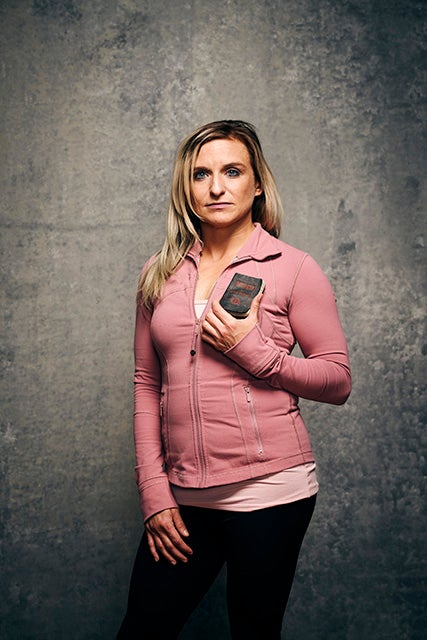 Photo: Roger Mastroianni
Megan Palko Grudzinski (NUR '18, '21), RN, served in the U.S. Army as a chemical, biological, radiological and nuclear specialist in both domestic and overseas emergencies from 2001 to 2013. She graduated in January with a Master of Science in Nursing and works as a psychiatric nurse practitioner at a private practice in the Cleveland area. Above, Grudzinski holds a Bible her grandfather, Joseph Palko, carried during World War II and that she kept in a pocket over her heart during her service.
"I was stationed at the Kandahar Airfield and Forward Operating Base Ramrod in Afghanistan, and we would go to sleep to the sounds of gunfire on most nights. Some of us never got used to it; your body is always tense; you are waiting for the abnormal. It can be exhausting when you come back. I can see someone walking with an umbrella, and my body can react like it is a gun.
"When I came back and was dealing with PTSD [post-traumatic stress disorder], I thought I was at the bottom of a well. But I finally realized if I got myself better, I could help other people get better too. I earned [a second master's degree to become] a psychiatric nurse practitioner, mainly because we have a need for much better mental-health treatment for veterans coming back."
Photo: Roger Mastroianni
Christopher Yesukevich graduates in May with a master's degree in medical physiology and aims to become a medical doctor. He served as a U.S. Navy hospital corpsman from 2004 to 2014. In Iraq, he stabilized and evacuated critically wounded soldiers from the battlefield by helicopter. Later, he deployed to Farah, Afghanistan, providing combat medical and civil affairs support. Below, Yesukevich holds a framed swath of canvas bearing a U.S. medical insignia that was retrieved from a damaged stretcher.
"During my last three years in the Navy, as an independent duty corpsman, I was directly responsible for the assessment, diagnosis and treatment of a population of approximately 1,000 Marines, under indirect supervision and mentorship of my battalion surgeon. The ability of select enlisted members to practice medicine without a professional degree is unique to the military.
"My military experience contributes greatly to my success at Case Western Reserve. It sharpened my critical decision-making under pressure, improved my ability to navigate cultural divides and gave me hands-on primary care experience. Overall, the most valuable skills I learned from military service are the ability to plan best use of available time and to follow through to completion. After medical school, I plan to return to military service as a medical officer."
Photo: Roger Mastroianni
Christine Pokryfky, RN, was a U.S. Army Nurse Corps officer from 2011 to 2015, stationed at Fort Campbell, Kentucky, where she cared for a wide range of patients and worked as a sexual-assault medical forensic examiner. She graduates in May with a JD from the School of Law. Above, Pokryfky holds a photo from her Army commissioning ceremony of her and her grandfather, Petty Officer (ret.) Don Engeman, who served in the Korean War.
"One of the great things about the military is that it provides you with the opportunity to lose yourself in the service of others. My experiences in the Army allowed me to see how military medicine and the VA [Veterans Administration] function. Watching disabled veterans struggle to navigate that system is what pulled me in the direction of attending law school. I hope to work in health law, and want to ultimately help make positive changes for the veteran patient population that has made me who I am.
"Law school is obviously difficult, but not necessarily in the same way the military is. You have a very different point of view as to what a hard day really is. I learned in the Army how to do many things at once, and I'm grateful to have that perspective."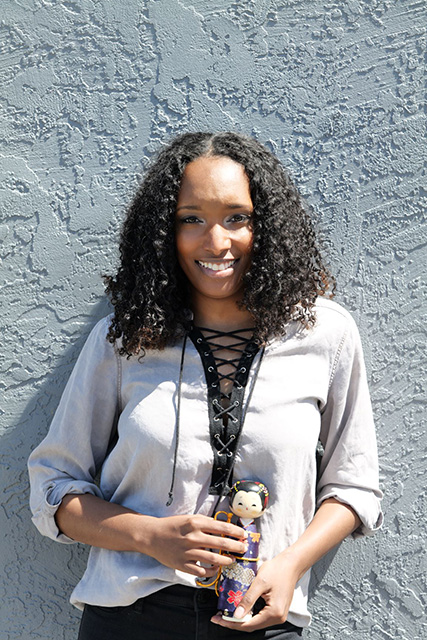 Photo: Courtesy of Sam Martin
Ciera McCrary is finishing five years in the U.S. Navy and an online master's in biomedical engineering in May. A lieutenant, she lives in San Diego and works on the USS Howard destroyer, overseeing wide-ranging crew training from search-and-rescue missions to operating anti-air-defense systems. Below, McCrary holds a wooden doll that members of a Navy division she led aboard a ship in Japan gave her when she left the post. The dress is a scroll containing tributes and thanks from the enlisted sailors.
"Every day is something different in the military. You think you're going in one day to do 'this,' and then 30 other things come up. When I went to college, I used to stress about a test or three papers. Now, I know how to get through it all. The military has helped me with understanding, one: how to handle stress; and two: how to handle a multitude of problems coming at me at once.
"I have a different perspective than a lot of students. For a group project to develop a concept, on paper, for a biomedical engineering product to help people, we created a COVID diagnostic tester that was portable. The reason I suggested that product is that we had to work from the ship and people were worried about COVID and their families, but we still had a job to do. I had a different perspective from a lot of people who were staying indoors. I saw the day to day of how our engineering could impact people."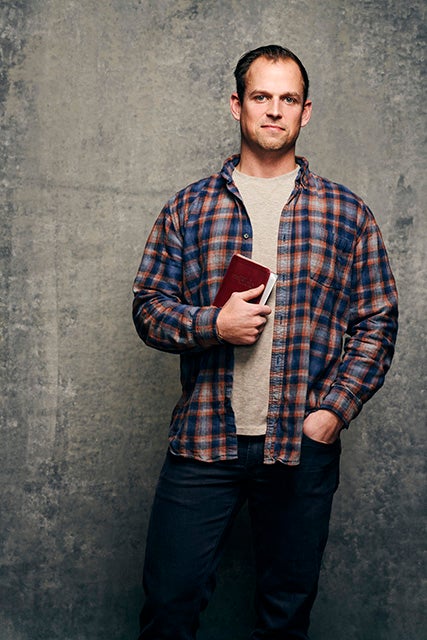 Photo: Roger Mastroianni
Andrew Mahall served in the U.S. Navy from 2012 to 2016. As a salvage petty officer working on beaches in the Persian Gulf and Kuwait, he was in charge of arriving Marines, as well as tanks, Humvees, and other cargo as they came ashore and had to be directed where to go next. He plans to complete his bachelor's in civil engineering next year. Above, Mahall holds a Bible his mother gave him before boot camp containing notes and prayers from family and friends that he read daily.
"I didn't want to pursue an education before I served in the Navy, but I gained a newfound love of learning during my service. One of the most valuable things you learn from the military is how to adapt and overcome—because that's the only option. From that, you gain a lot of confidence and knowledge that can be applied to all of life's challenges.
"Case [Western Reserve] was a little bit intimidating at first, but after the first exams, I was able to figure out what I needed to do and adapt. I have also been very fortunate to have such a loving family supporting me through each chapter of life. In the Navy, you had to maximize your potential to give the most to your country. That's the same [attitude] I bring to my education."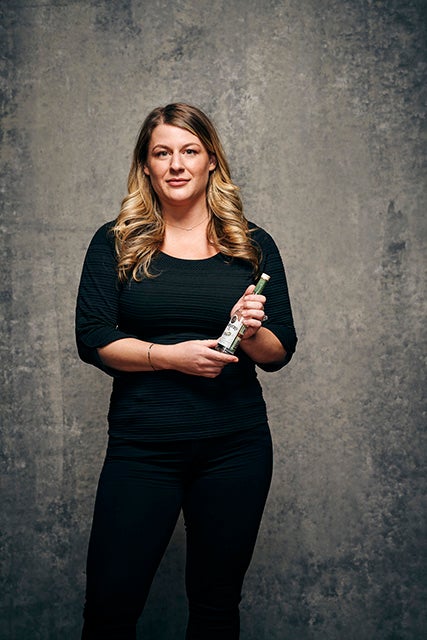 Photo: Roger Mastroianni
Lindsay Radisek served in the U.S. Marine Corps from 2008 to 2017, mostly as a language interpreter. She was proficient in translating Pashto and Russian, served in military zones in Afghanistan and conducted foreign policy work in Washington, D.C., and throughout the Russian Federation. She plans to complete her MBA at Weatherhead School of Management next year. Below, Radisek holds a bottle of Russian vodka infused with horseradish, which reminds her of traveling to Siberia and getting to know everyday people.
"I changed a lot going in [the service] right after high school and so young. I quickly became more confident. I knew how I could contribute meaningfully and not just be a cog in the wheel. The confidence really helps you out after you get out—especially in school.
"Travel in Russia influenced me greatly. I often tell people how they need to always be open to different ways of thinking, and that we and other groups of people have much more in common than we don't. I love the Russian people, old Soviet jokes, great Russian cooking made by grandmas, the big city of Moscow, the friendliness of the people in Siberia. But then again, when I was in Afghanistan, I loved them too. I've learned that most people are different from the national political interests."