lens
An Accomplished Expert at the Helm
New cancer center director is accomplished in research, clinical trials and leadership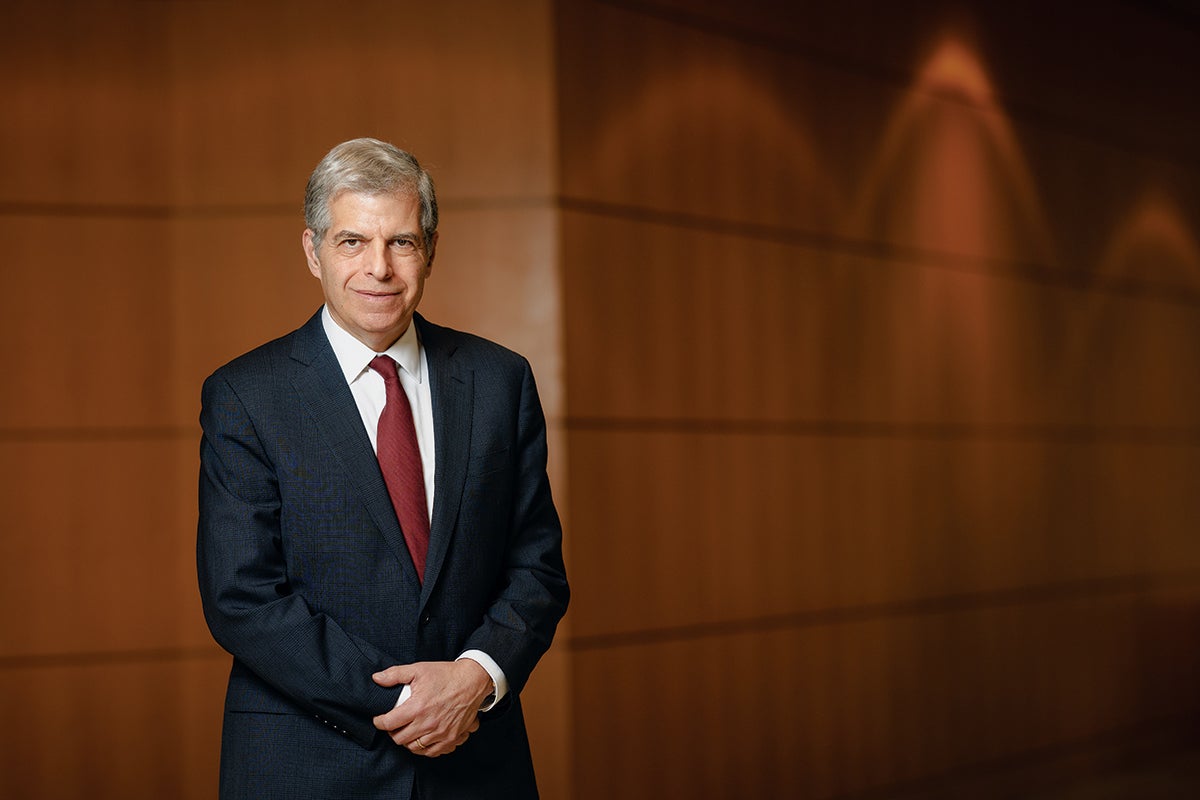 IMAGE: DALE MCDONALD PHOTOGRAPHY
Gary Schwartz, MD, is in a hurry. A month before he would start as director of the Case Comprehensive Cancer Center, he'd already visited Case Western Reserve a half-dozen times to talk with researchers, meet the center's community advisory board and attend its seventh annual Cancer Disparities Symposium.
"My dream job was always to be a cancer center director, with the goal of impacting cancer medicine in a major way across a community, and hopefully impact healthcare across the country," he said.
Schwartz doesn't want to lose a minute.
He came to the center in April after serving as chief of Columbia University Irving Medical Center's Hematology & Oncology Division and deputy director of its Herbert Irving Comprehensive Cancer Center. Both the Cleveland and New York City centers are National Cancer Institute (NCI)-designated comprehensive cancer centers conducting leading research, clinical trials, and helping patients find advanced treatments.
He is thrilled by the opportunities that await him here, with the center's consortium of CWRU, University Hospitals and Cleveland Clinic. The institutions' clinicians and researchers have greatly advanced cancer treatment, particularly in the area of customized immunotherapy.
Leaders of the three institutions are delighted as well.
"The combination of his stellar expertise and depth of knowledge will advance the center's innovative research which, ultimately, will lead to new discoveries that prevent, diagnose and treat cancers," said CWRU President Eric W. Kaler.
The center already is well-positioned to make further advances. Previously led for 19 years by Stan Gerson, MD, now dean of the CWRU School of Medicine, the center earned NCI's highest possible rating, along with a five-year grant of $30 million starting in 2018. Three years later, the NCI made the center the first in the country to receive a two-year merit extension and awarded it an additional $12 million.
"Dr. Schwartz is an exceptionally accomplished cancer investigator with extensive experience leading clinical research programs at major cancer centers. I am thrilled we could attract him to this position."
—

Stan Gerson, MD, dean of the CWRU School of Medicine and the university's senior vice president for medical affairs
That extraordinary honor is another reason Schwartz is moving fast; he has one year to shepherd the renewal application for the center to retain NCI designation.
"I'm coming in with big shoes to step into," Schwartz said. "Stan Gerson set the bar so high."
Schwartz is an expert in rare cancers and translational research (that is, solutions that begin in laboratories and advance to patient treatments). He has spent more than 30 years pursuing novel approaches to treating and curing sarcomas (tumors that begin in bone and tissue) and melanoma. That time includes more than 20 years at Memorial Sloan-Kettering Cancer Center's Department of Medicine.
For example, his lab found a promising treatment for a leiomyosarcoma, a rare smooth-muscle cancer that women can develop in the uterus. By combining low-dose chemotherapy—which can kill a cancer cell by damaging its DNA—with a substance called PARP inhibitor—which prevents the cancer cell from repairing its damaged DNA and healing itself—his lab achieved astonishing results.
In clinical trials supported by the NCI, "many tumors in patients with advanced cancer nearly disappeared in months," Schwartz said.
In Cleveland, Schwartz also plans to be deeply involved in the center's initiatives to address cancer disparities. He directed Columbia's Minority/ Underserved Site NCI Community Oncology Research Program, which requires that at least 30% of participants in clinical trials are underrepresented minorities.
Such trials can be lifesaving, he said. Those involving melanoma, for example, are provided treatments that are curing previously incurable cancers.
"We don't seem to reach out effectively enough to inform people of what's available at cancer centers," he said. "It's a matter of a lack of trust in our infrastructure in medicine and how we address it."
Schwartz said he is committed to improving community wellness and addressing issues that may contribute to cancer.
For example, addressing obesity could have "a profound impact on cancer," he said. Being overweight or obese is linked to higher risks of 13 cancers. Those cancers account for 40% of cancers diagnosed annually in the United States, according to the Centers for Disease Control.
"My ultimate goal—everybody's ultimate goal—is to cure cancer," Schwartz said. "I'm hoping we can do it in Cleveland."