launch
CAMPUS ART WORKS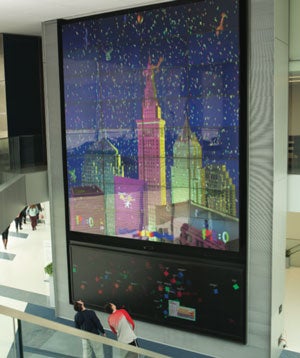 photo: Kevin Kopanski
What are you waiting for? The question—posed in 12 languages frequently spoken at Case Western Reserve—is written more than 300 times in undulating lettering on a mural welcoming guests into the Tinkham Veale University Center.
It's also what's guided Kathy Barrie's approach to bringing more visual art to campus as chair of the university's John and Mildred Putnam Sculpture Collection Committee.
"There's always something holding you back from doing the next thing," she said, "but why not try something new?"
That's exactly what Barrie and the Putnam committee are doing with the collection, which is funded by an endowment to commission artwork for the campus. During the past three decades, the committee has placed nearly 50 sculptures and other types of artwork in buildings and outdoor public spaces.
A longtime museum consultant and public art administrator (she and her husband, Dennis, count Washington, D.C.'s International Spy Museum and the forthcoming U.S. Olympics Museum in Colorado Springs, Colo., among their projects), Barrie took the helm of the collection in 2013.
Almost immediately, Barrie and the committee seized the opportunity to bring a broader perspective to Case Western Reserve's art scene, including to the university center, which opened this academic year.
On the center's 40-foot interactive media wall is Welcome to Cleveland—six games that Cleveland Institute of Art (CIA) alumna, MTV personality and artist Thu Tran and a collaborative team of Jonathan Schenke (CWR '04), Ivan Safrin and Bobo Do designed to engage students and other visitors. Using Xbox Kinect technology, the games invite users to interact and make quirky virtual visits to local landmarks, such as Lake View Cemetery, a frozen Lake Erie and the Guardians of Traffic statues on the Hope Memorial Bridge.
At the same time, Barrie and the committee brought two other installations to campus. They commissioned Mark Reigelman, a CIA alumnus, for The Great Picnic table for Toby's Plaza on Euclid Avenue (it seats up to 100), and Nancy Dwyer, an internationally recognized artist with a long history of public art in Cleveland, for the What are you waiting for? 23-by-13-foot-high mural, and for a second work displaying the answers that people intrigued by the art wrote in response to the question.
In essence, the Putnam committee aims to bring more art to campus and use it to define a sense of place for the Case Western Reserve community.
"Art should be about places that make memories or encourage small gatherings; it should be something that's memorable in your path that you'll miss when you graduate," Barrie said. "On a campus, there are so many opportunities for that."