launch
CLASS ACTION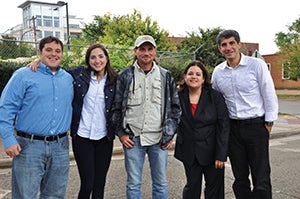 photo: Case Western University School of Law
When Rebecca Sremack (LAW '14) was a third-year student at Case Western Reserve School of Law, she heard that police in her hometown of Akron were demolishing homeless encampments and felt compelled to act.
Last fall, Sremack, by then graduated and awaiting bar exam results, and third-year law school students Nathaniel Ehrman, Donielle Robinson and Emma Victorelli filed a federal class-action lawsuit against the city on behalf of 11 individuals who said their belongings were seized and thrown away with little or no notice.
Sremack brought the issue to the attention of Avidan Cover, JD, assistant professor of law, who helped her and the others research and write the suit at the law school's Milton A. Kramer Law Clinic Center, where students work with people who couldn't otherwise afford legal counsel. Additional teams of students from the law school worked on the case both before and after it was filed.
"We never could have filed a suit without the clinic's help," said Sremack, JD, who remains a co-counsel on the case and is in a general practice in Akron with her father.
The city has said it acted properly, and that police followed the law, responded to reports of trespassing on private property, and gave people who were homeless plenty of notice about the upcoming cleanup and ample time to gather their belongings and leave.
The suit seeks compensation for destroyed items and more notice from police before they dismantle the encampments.
"We maintained there was not adequate notice," Cover said. "Hopefully, there will be more clarity as the case moves forward." The case is still in the early phases of discovery, and Cover said he isn't certain whether or not the individuals were trespassing.
For plaintiff Patrick Moe—who said his tent, clothes, family photos, military papers and other personal items were destroyed—the case is about more than reimbursement.
"Regardless of the outcome of the case, I feel empowered for being part of this effort," said Moe. "Somebody needed to stand up. The students have given us a voice."
Moe and other plaintiffs have been in regular contact with the third-year students, who continue to work on the case under Cover's supervision.
"It's been a great teaching tool," said Cover. "The students are learning the value of advocating on someone's behalf and are passionate about this case."