dialogue
CONFRONTING A TRAGEDY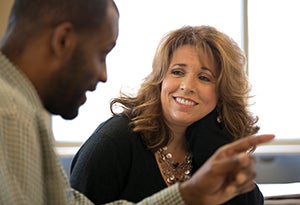 photo: Dale Omori
Lisa Pape (SAS '90) faces a daunting task. As executive director of homeless programs for the U.S. Department of Veterans Affairs (VA) for the last five years, Pape is responsible for the VA effort to end homelessness among military veterans by the end of this year. That's nearly 50,000 people. But it's as if the Brunswick, Ohio, native prepared for this assignment her whole life. Pape joined the VA in 1991, the year after receiving her master's degree from the social work program at what is now the Jack, Joseph and Morton Mandel School of Applied Social Sciences. We initially caught up with her during a visit to the Louis Stokes Cleveland VA Medical Center's facility for homeless veterans.
How did you end up at the VA?
The VA offered paid internships, so I applied. Before that, during a couple of summers as an undergraduate [at Miami University], I worked at a gas station across from the VA complex in Brecksville, Ohio. The guys would come into the gas station and buy cigarettes and sodas. That experience allowed me to understand the veterans who were staying at the Brecksville unit at that time. I pretty much knew that if I got into Case Western Reserve I wanted to work at the VA. I did my first internship at the acute psych unit there back in 1988 or '89.
What was it about your interaction with the veterans even back then that intrigued you?
It was a couple of things. It was knowing that these people signed up to enter the service and defend our country. It's that people give up that part of their life to give something back to us. And the other [reason] was just watching the folks struggle and grow and then graduate from the program and move out on their own. It was just something I knew I wanted to be a part of.
How old were you when you realized that helping people was your calling?
I knew since I was 13 years old I was going to be a social worker. Everyone in my family was saying don't be a social worker or a teacher because you will never make any money. I knew I would be one or the other. At 13, I read a book—I don't even remember what it is now—but it involved working with disabled people and I knew that was the direction I wanted to go. It moved me enough to want to reach out to folks and make a difference somewhere.
Were you particularly patriotic growing up?
I was not. I wasn't unpatriotic, but it was really my experience of meeting the vets getting treated at the Brecksville unit at that time and watching them evolve into new people that drove me to want to work with veterans.
Did you have a favorite professor or mentor at the Mandel School?
I did. We had a group therapy class with Belleruth Naparstek [a clinical social worker and former Mandel School adjunct faculty member]. She's fantastic, lively, a great professor at that time and exactly what I needed for learning clinical work. We were learning group therapy, and she just embodied what social work and group therapy work was for us at that time. She gave us an open and safe environment to learn how to do clinical work with clients. She was really energetic. Folks will remember that about her.
You applied for this job. Now you're directing an overwhelming task—to end veteran homelessness by year's end. How's it going?
Our job is to get them into housing as quickly as possible and wrap services around them. We started in late 2009. The VA and our partners have achieved a 33 percent decrease in homeless veterans. On any given night, there are about 49,000 veterans sleeping on the streets or in shelters, so we really have to move the needle this year. It's a travesty that anybody would be homeless, let alone a veteran.
Why do so many veterans end up homeless?
Poverty is one of the biggest issues, but there's a lack of affordable housing, a lack of appropriate wage-paying jobs. There are also things like mental-health issues, substance-abuse issues that contribute to our clients' inability to maintain jobs or manage their lives.
With no military draft, many people don't even know a veteran, much less a homeless veteran. What would you like them to know about veterans?
Anybody who has chosen to serve in the military is a brave, courageous human being. That's how I'd describe our veterans who have ended up on the streets. They're braver and more courageous than any of us because that's a hard life to live. Our veterans, whether they're living in a shelter or on the streets, want to live productive lives. A hand up is all they need to get there.
You mean like employers making a point of hiring a vet?
Right—if folks have an opportunity to hire a vet. Our vets are hardworking, productive, regimented. That's a great way that a community can give back.
As an administrator, how much time do you actually get to spend working with veterans—in other words, living the passion that drew you there in the first place?
The VA is part of an annual Point-in-Time count of homeless veterans. This year, I will be going to Los Angeles and we'll be counting veterans on Skid Row and enumerating how many homeless vets we have in L.A., which brings me back to my roots and reminds me these are the folks we're helping.
What approaches have been most effective?
The biggest is called Housing First. What we hear from homeless veterans is: 'It's really hard to focus on my health and mental health and employment situation when I don't have a place to sleep at night.' So we have implemented a housing-first approach, and that is getting veterans a safe place to live so they can sleep at night, and then wrap services around them. In the past, we used to treat their mental health first. No more. Let's get them in a safe place to live.
I watched you interacting with veterans on a recent visit to Cleveland. You've got this inherent warmth.
It's one of the things that make me cut out for this job. I think it's just a part of me and why you get drawn to professions like social work and have that compassion to help our brothers and sisters.