discover
CUSTOMIZED CANCER THERAPY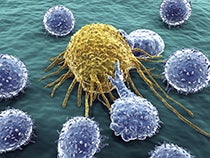 This spring, Case Western Reserve researchers are launching two clinical trials to supercharge participants' own cells to fight their cancers.
They will extract immune cells from each trial participant, multiply or enhance the cells with more cancer-fighting agents and inject them back into the same participant—a strategy known as complex cell therapy.
One trial is focused on melanoma, the other on breast cancer. Both are based at the National Center for Regenerative Medicine (NCRM), a multi-institutional center on Case Western Reserve's campus that uses human cells and cutting-edge technologies to identify and develop new medical treatments.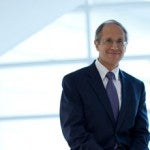 Today, many cancer-based trials are built on four decades of cellular therapies that began when doctors first transplanted marrow into leukemia patients. But the real breakthrough came around 1993, when researchers discovered that it was the immune cells within the marrow—not the entire marrow—that led to the cures, said Stanton Gerson, MD, director of the NCRM and Case Comprehensive Cancer Center and a professor of medicine. 
"The discoveries involving the function of immune cells have let us develop exciting and innovative cell-based therapies that may be even more effective than current treatments for cancer," he said. "Now we can design immune-based cell therapies that will augment and expand our treatments beyond our traditional use of surgery, radiation and chemotherapy." 
Researchers at various institutions have been working on programming and customizing immune system cells to seek and attack different cancers. The new NCRM trials are based on applying new approaches to modifying and training a person's own cells.
In the melanoma trial, researchers will extract T cells from lymph nodes near the cancer site, multiply them more than a hundredfold and inject the bulked-up group of cells back into the dozen individuals.

"Immune cells in our bodies fight cancer naturally but can become overwhelmed," said Julian Kim, MD (GRS '10, clinical investigation), who leads the research team for the two-year melanoma trial. Kim, a professor of surgery in the School of Medicine who also holds several positions at University Hospitals, including division chief for surgical oncology at UH Case Medical Center, added, "Complex cell therapies, with billions of new immune cells, try to get the balance back to where our bodies are controlling the cancer."
Kim hopes his approach will create an "immunological memory" in patients' bodies that continues to fight cancer after treatment stops.

In a breast cancer trial led by Joseph Baar, MD, PhD, an associate professor in the School of Medicine and director of breast cancer research for UH Case Medical Center, researchers will remove immune cells known as dendritic cells and load them with a protein that could cut off the blood and oxygen supply to tumors. The mix will be injected into each of the 30 participants as a personalized vaccine. The trial is expected to last four years.
Individuals in both trials also will receive other standard treatments, including chemotherapy.
If these trials—which the U.S. Food and Drug Administration allowed to go forward—are successful, next steps could include larger trials that compare the effectiveness of the new therapy with commonly used treatments. The ultimate goal is to offer the treatments at hospitals able to manufacture these therapies.
The NCRM is a state-of-the-art facility with a "clean room" that controls environmental conditions and limits airborne particles, making it possible to grow and manipulate cells for both trials. Its advanced equipment includes a machine that uses microscopic magnetic beads to separate out particular types of cells and another that sends electronic pulses through collections of cells to count them by the millions.
The center's founding institutions are Case Western Reserve, Ohio State University, Cleveland Clinic, University Hospitals Case Medical Center and Athersys Inc.