launch
STUDENTS DESIGN THE FUTURE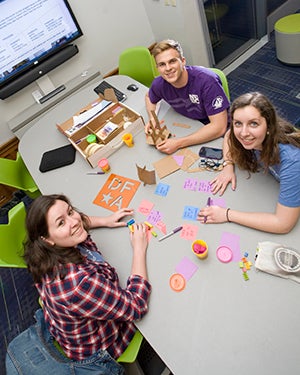 photo: John Quinn
Last fall, students from Case Western Reserve and Cleveland Institute of Art (CIA) responded to a challenge from Fiat Chrysler Automobiles to help make their vehicles more accessible for people with disabilities.
The project was a perfect fit for the six students, who are members of Design for America (DFA), a national network of student groups that partner with local individuals and organizations to tackle vexing human and social problems such as food and material waste and safety for people who are homeless.
The automaker's challenge—sent out to the DFA network—particularly resonated with Alexis Schilf, the local chapter's director of external education and a junior from Chicago majoring in biomedical engineering. After coaching Special Olympics athletes, said Schilf, she became interested in designing products for people with different levels of mobility.
The students talked with more than two dozen people with disabilities and then created a sliding trunk shelf to help drivers in wheelchairs load and unload items more easily. In December, the students traveled to suburban Detroit as one of five DFA teams to present their device to the automaker. The company has since said it is considering adding the local team's accessory to future vehicles.
"It's a great fit working with students," said Curt Edgar, director of planning operations and features management for Fiat Chrysler. "Young people come in without the preconceptions that can sometimes stifle creativity."
The local students are majoring in a range of subjects, including engineering, business and fine arts. "The more mindsets we have, the better solutions we create together," said Marc Bouchet, executive director of the local group and a sophomore from Evanston, Ill., majoring in material science and aerospace engineering.
And they are brainstorming on a range of projects. Some students are working with spinal cord experts at the Louis Stokes Cleveland VA Medical Center on building a device to transfer a patient between a bed and a wheelchair. Others are helping the Children's Museum of Cleveland produce an exhibit that incorporates art and design to educate museum visitors about STEM concepts—that is science, technology, engineering and math.
"It's opened my eyes to see how the engineering half works," said Joshua Crespo, a senior from Miami majoring in industrial design at CIA. "Learning to speak the same lingo, the back and forth with each other—it's how real firms work."
Schilf, who co-founded the local chapter in 2012 and has overseen its growth to 50-plus students, said the chapter is united by a commitment to innovating for social good. "We want to help people while having a creative outlet outside the classroom."