connect
DISTINGUISHED ALUMNI AWARD WINNERS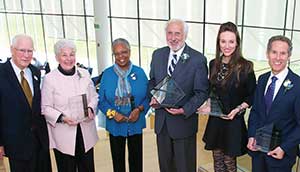 photo: Daniel Milner
Last fall, The Alumni Association of Case Western Reserve recognized five graduates for their professional accomplishments, careers, service and overall achievement.
Distinguished Alumni Award: Jerold Goldberg, DDS (ADL '68, DEN '70)
When Jerold Goldberg graduated from Case Western Reserve School of Dental Medicine in 1970 and moved to New Jersey for a general residency, he didn't expect to return. But a year later, Goldberg came back to the university for an oral and maxillofacial surgery residency—and never left. As a student, oral surgeon, scholar, educator and academic leader, Goldberg has left a lasting mark on the dental school and the broader community.
"In a way, the university is recognizing itself, and what a wonderful place it is, by recognizing me, since I am a product of spending a lifetime at this institution," he said.
During Goldberg's tenure as dean from 1997 to 2014, student applications doubled, the number of faculty tripled, the research portfolio expanded in scope and impact, and the curriculum became a national model. Goldberg also played a prominent role in the school's community outreach programming, including the Healthy Smiles Sealant Program, in which dental students provide oral care for thousands of Cleveland schoolchildren each year. Goldberg serves as a faculty member, working actively on fundraising and planning activities for the school.
The Professional Achievement Award: Scott P. Bruder, MD, PhD (GRS '90, biomedical sciences, MED '92)
Hundreds of thousands of patients around the world have been treated or diagnosed with medical technology developed by Scott Bruder and teams he has led. Throughout his career in health care, Bruder has designed, tested and commercialized devices used in orthopedic treatments such as spinal fusions and fracture repairs. He also has advanced stem cell therapies that regenerate tissue.
"I was drawn to research for its potential to positively affect the lives of people I may never meet in places I may never go," he said. "My joy and satisfaction come from the lasting impact of discoveries that started with my studies at Case Western Reserve."
In addition to holding 18 patents for his medical research, and applying for six others, Bruder writes regularly about his research in book chapters and articles in peer-reviewed journals. He is principal of Bruder Consulting International LLC in New York City, which provides strategic guidance for companies in the biotech, medical device and health-care industries. He also serves as an adjunct professor in biomedical engineering at Case School of Engineering.
The Newton D. Baker Distinguished Service Award: Linda Wilson (FSM '71)
As a full-time English teacher in the Cleveland schools in 1990, Linda Wilson began a Saturday tutoring program. Since then, she has helped several thousand students in grades 1-12, canceling tutoring sessions only twice in 25 years because of driving bans prompted by extreme weather. Wilson's concept is simple: pair volunteer tutors and students for two hours with only books and paper—no computers or phones. Every Saturday, students from the region's public and parochial schools come to Church of the Covenant near the Case Western Reserve campus to receive help in a range of subjects and prepare for college entrance exams, such as the SAT.
"The kids deserve someone as their champion," said Wilson. "Our tutors range in age from 16 to 85 and come from all ethnic and socioeconomic backgrounds. It's their personal undivided attention with students that makes a profound difference."
More than 300 tutors serve in the program each semester, and Case Western Reserve students have always been its largest source of volunteers. In addition to teaching English for 32 years, Wilson also served for 25 years as a department head in the Cleveland Metropolitan School District.
The Daniel T. Clancy Alumni Service Award: Laura J. Nosek, PhD (NUR '61, '81, GRS '86, nursing)
While carrying a full-time courseload and working as an RN in the early 1960s, Laura Nosek spent her evenings calling dozens of alumni, working her way across time zones as a volunteer fundraiser for the Frances Payne Bolton School of Nursing. Since then, Nosek has served the nursing school and university for more than 50 years as a faculty member and alumni volunteer. Nosek also helped lay the groundwork for the creation of The Alumni Association of Case Western Reserve, which will celebrate its 10th anniversary in September.
"Accomplishments of our amazing alumni not only contribute to the betterment of the world, to the advancement of humanity and technology, but also to the reputation of each and every graduate," said Nosek. "Successful alumni relations help us work together to accomplish even more."
Nosek serves on the board of the Frances Payne Bolton Alumni Association. In previous alumni volunteer roles, she served as president of the Case Western Reserve University Undergraduate Alumni Association, was a member of its board of directors, president of the nursing school's alumni association and chairperson of its annual fund.
The Young Alumni Award: Elizabeth A. Davis, MFA (GRS '06, theater)
The night Once opened on Broadway in 2012, the audience delivered a rowdy standing ovation that show star and Case Western Reserve alumna Elizabeth Davis will never forget.
"The audience's yelling and screaming felt like an affirmation of all the work I started as a young girl and continued at Case Western Reserve—my artistic home," Davis said. "No person stands alone. The network and relationship that I have with the artists and alumni at Case Western Reserve have been integral to my success and growth. When you feel rooted, you fly farther."
Her role as Reza in Once (her first on Broadway), where she sang, danced and acted while playing a violin, earned Davis a nomination for a Tony Award for best featured actress in a musical. She has since appeared in television programs and off-Broadway productions. This fall, the Goodspeed Opera House in East Haddam, Conn., will stage Indian Joe, with music and lyrics that Davis wrote.