connect
FIRST (IN HER) CLASS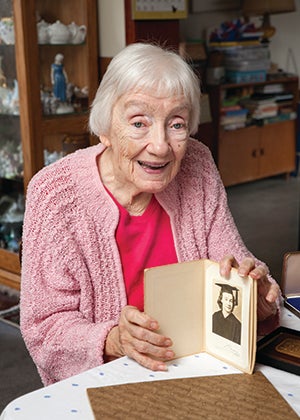 photo: Mike Sands
Laura Diehl Crowl (CSAS '45) has an indelible memory of her early days at Case School of Applied Science.
"There were hallways full of men," Crowl said. "Except for me."
At 19, Crowl became the first woman to earn an undergraduate degree from what is now Case School of Engineering.
On a recent spring day—70 years after she graduated—Crowl sat in her suburban Cleveland home, recalling her education and career as she paged through her college notebooks, the pencil-drawn graphs as crisp as the day she calculated their coordinates.
"To accomplish what she did, so fast and so young, as the only female in her classes—she was truly a pioneer," said Richard Baznik, university historian, vice president emeritus for public affairs and author of the recently published Beyond the Fence: A Social History of Case Western Reserve University.
Admitted to the school during World War II—when men were being called up for service, and military needs and national priorities prompted schools in many parts of the country to accelerate their science and engineering programs—Crowl completed her BS in just 2 1/2 years.
Up to that point, only four women had earned part-time master's degrees from the school. After the war ended, Case returned to its prior policy and stopped admitting women to the full-time undergraduate program until a policy change in 1960, Baznik said, noting that, at the time, most engineering schools did not admit women.
As a student at Garfield Heights High School, Crowl didn't have her sights set on Case. But one afternoon, another senior called to her from across the street; he was on his way to take the school's admissions test. Crowl tagged along—but only after asking permission from her parents, who had piqued her interest in science during dinnertime conversations.
She started classes just 10 days after graduating as her high school valedictorian. Her physics lab partner was Donald Glaser, who went on to win the Nobel Prize in physics in 1960. Crowl lived with her aunt in East Cleveland during college. She earned her keep by cleaning the house, and rode a bus to and from campus. Homework kept her up late most nights, and she took piano lessons at the Cleveland Institute of Music in her scant downtime.
"All we did was take classes and study," she said. "Not much else."
After graduation, Crowl worked in the fluorescent lamp laboratory for General Electric in East Cleveland. She earned a master's degree in physics in 1949 at what is now Rice University in Houston.
That same year, she married Robert Crowl (CLC '49), who became an aeronautical engineer at what is now the NASA John H. Glenn Research Center in Cleveland. She researched plasma physics at GE until 1955, when she had the first of her three children. Later, Crowl taught high school and community college and maintained an unwavering interest in science, traveling to see Icelandic volcanoes and Arctic Circle glaciers. Her husband died in 1992.
This fall, Crowl, now 89, plans to attend the 70th reunion of the Class of 1945—and thinks bringing her old notebooks and coursework will get a laugh from her classmates. "We were serious students and proud of our education," she said. "Case still means so much to me."