launch
GLOBE-TROTTING PIONEERS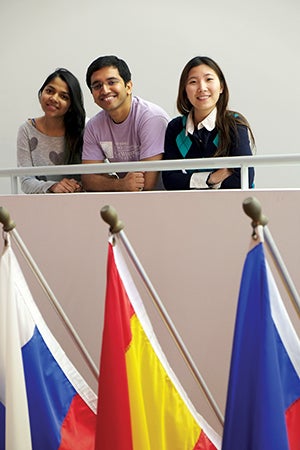 photo: Susan Griffith
Aditi Murarka, a native of Jamshedpur, India, can now imagine starting a business in China with the connections she made while studying there.
Meanwhile, Ying "Zoe" Kong of Shanghai feels better equipped to handle the languages and customs of business in India and around the world.
And Keshia Johnson from Dallas believes she's gained the kind of global experiences that appeal to employers these days.
These three students, and 45 others from India, China and the United States, compose the inaugural class of Weatherhead School of Management's Global MBA program.
During the past two years, students lived in three countries, experiencing the cultures, classrooms and work worlds of each. The group graduates this month.
"We will be a rare resource for employers with our knowledge, experience and networks in the world's three biggest economies," said Johnson, who is looking to work in internationalbusiness strategy and development.
Global MBA students spend their first semesters at Tongji University's School of Economics and Management in Shanghai, the second at the Xavier School of Management in Jamshedpur, India, and the third at the Weatherhead School. For the fourth and final semester, students from India or China can return to their home countries, or join their U.S. peers at Case Western Reserve. The 50 students in the program's second class, as well as students in subsequent classes, will study during a summer session at Case Western Reserve.
"Our students have learned from local voices while immersed in unfamiliar settings—an advantage as business becomes increasingly international," said Simon Peck, PhD, associate dean of graduate programs at the Weatherhead School. "Each of these countries is thriving on the international stage but is rooted in a distinct, homegrown culture, which gave our students an opportunity to see how business is conducted in different settings."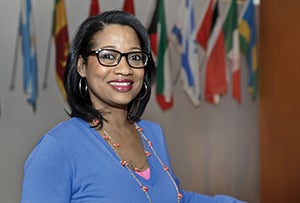 photo: Roadell Hickman
Peck said Em Lyon Business School in Lyon, France, is slated to become a fourth partner starting in 2016, and students would study there as well.
The Global MBA curriculum differs from traditional MBA programs in that students study contrasting management practices across cultures. They also learn about distinct analytical tools that measure success in emerging economies and about the legal and economic contexts within the three countries.
Students in the inaugural class toured factories and visited several multinational companies. They also completed internships and projects with manufacturing companies and other firms in India. Along the way, classmates studied and lived together in three countries and formed what Ankur Gupta of Mumbai, India, considers to be unbreakable bonds.
Students also specialized in traditional subjects with an international tilt. During Murarka's time in the program, she co-developed Trendenza, a software-based kiosk that helps shoppers better match separate apparel items and accessories while in a clothing store. She and fellow Case Western Reserve students have filed for a U.S. patent.
With her growing knowledge of emerging retail markets in China and India, Murarka has laid the groundwork to continue working on Trendenza. And after completing her MBA, she also plans to work for the international bank Standard Chartered, initially rotating through commercial client departments in Mumbai and Shanghai.
"We're ready to make our mark on the world," said Murarka. "As the first Global MBA class, we want to set the bar for others to follow."
—Daniel Robison