connect
INVENTOR'S LEGACY SUITS ATHLETES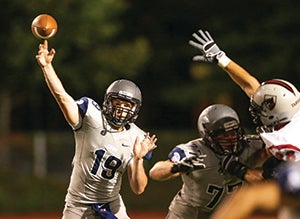 photo: Ryan Baker
As starting quarterback of Case Western Reserve's football team this season, Billy Beecher played the best games of his college career. The senior co-captain said he threw the ball better thanks to coaching, workouts—and a new uniform that pays tribute to the late Marion Frank Rudy (CIT '50), inventor of Nike's Air Sole technology.
"The uniforms fit, moved and breathed better, especially around my arm," said Beecher, a finance major from Lancaster, Pa.
This school year, the university's 500-plus athletes on 19 varsity teams received new Nike uniforms and footwear thanks to gifts from the Rudy family and the apparel company.
Rudy died in December 2009 at 84. More recently, his family wanted to celebrate his enduring connection to the university and reached out to Nike to collaborate in bringing needed new gear to campus. Nike was game to honor a man who holds a special place in the company's history.
Designed by Nike and university coaches and players, the sportswear is the first to coordinate use of the university's blends of blue and gray across all sports and affix the CWRU acronym on all team uniforms.
"My father was always interested in finding solutions," said Kim McMahon, Rudy's daughter. "He would be so proud to see all the teams united and knowing he was able to help."
The sportswear has appealed to potential student-athletes during recruiting and sets the university's sports teams apart from their peers, said Amy Backus, director of athletics and chair of physical education.
Each team's uniform has a patch designed with input from Rudy's family that features his initials, "MFR," set in 3-D lettering that resembles an Air Sole shoe cushion. In the background are stars and planets, a nod to Rudy's early career as an aerospace engineer, working on NASA's Saturn and Apollo rocket engines.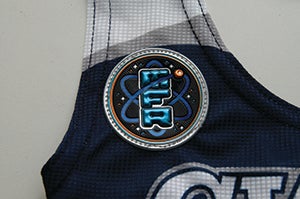 photo: Daniel Robison
An independent inventor (who eventually held 250 patents), Rudy first tinkered with air pockets around the ankle to solve a problem: His wife, Margaret, wanted more comfortable ski boots. "It was fantastic," said McMahon, recalling her own first experience with her father's invention, "skiing over moguls wasn't so jarring anymore."
Rudy next put air under the foot and in athletic shoes. And McMahon—then a member of her high school tennis team—became "a guinea pig" for testing various pressures and styles.
What emerged was the Air Sole technology—plastic bubbles filled with air and inert gas—now ubiquitous in shoes worldwide. Rudy used the know-how he gained as an engineer and a World War II medical and surgical officer to develop the invention, which he licensed to Nike in the late 1970s.
"He was a great thinker," said Margaret Rudy, who married Frank when he was a student at Case Institute of Technology. "When he got an idea, he never gave up."
A Northeast Ohio native, Rudy stayed connected to the region and Case Western Reserve. He and Margaret gave a donation to the university to establish the M. Frank Rudy and Margaret Domiter Rudy Professor of Biomedical Engineering, a position held by Zheng-Rong Lu, PhD.
"Mr. Rudy is a great example of how students can build on their educations here," said Gary Pillar, the university's executive director of major gifts and assistant athletic director for development. "Now, his family's generosity has greatly enhanced a vital part of the campus experience for our athletes, students and entire university community."