launch
MAKING A SPLASH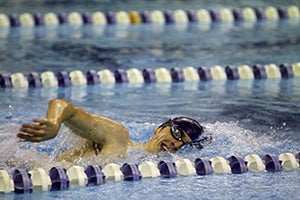 photo: Lynne Browske
When first-year student Drew Hamilton began racing for Case Western Reserve men's swimming and diving team last fall, his focus was simple: beat the guys in the next lanes over—the only competitors he could see when taking breaths.
But the Cincinnati native has now sped past numerous other swimmers, breaking five individual school records and another as part of a relay team.
Hamilton's prowess in the pool has gained national attention. He received honorable mention All-America recognition at the 2015 National Collegiate Athletic Association (NCAA) Division III Swimming and Diving Championships in Shenandoah, Texas, in March and won the University Athletic Association Rookie of the Year award—the first swimmer in school history to do so.
"It's an honor, and a little overwhelming, to break records so soon in my career," said Hamilton, who plans to major in accounting or finance.
Hamilton has been swimming competitively since age 7, and said he declined offers to swim at NCAA Division I schools because Case Western Reserve's coaches pledged to accommodate his academic interests.
"We build a team culture that makes school a clear priority, from having upperclassmen help first-year students manage their workload, to staggering practices to fit class schedules," said Doug Milliken, head coach of the men's and women's swimming and diving teams. "Drew bought in from the start, often practicing early in the morning and after classes each day."
Hamilton holds school records in the 500 freestyle (4:28.98), 400 individual medley (3:58.77) and 1,650 freestyle (15:54.06)—beating all three prior records by more than 4.5 seconds. Jon Gellin (CWR '02), an NCAA Division III All-American swimmer in each of his four years at the university, previously held these records.
Hamilton also clinched records in the 1,000 freestyle (9:38.63) and 200 freestyle (1:40.93), distinctions formerly held by David Whitbeck (CWR '04) and junior Aaron Tam, respectively.
In March, Hamilton and three other team members competed at the NCAA Division III Championships. The four—Hamilton, senior Eric Haufler, Tam and first-year Oliver Hudgins—finished 14th in the 800 freestyle relay, earning All-America honors. Earlier in the season, the group established a new school record (6:45.22) in the race.
"We will keep training to shave more time off each race," said Hamilton. "The key for us is to relax, swim hard and keep having fun."