launch
CULTIVATING LIFE-CHANGING COMMUNITIES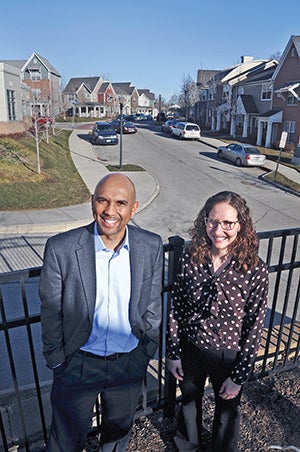 photo: Roadell Hickman
Mark L. Joseph, PhD, aims to cultivate thriving urban communities in an era of growing gaps in income and opportunity.
Joseph, an associate professor at the Jack, Joseph and Morton Mandel School of Applied Social Sciences, focuses on innovative poverty-fighting efforts that bring high-quality, mixed-income housing to low-income areas.
The approach represents a significant departure from decades of federal and local policies that isolated public housing complexes and their economically vulnerable residents.
Joseph first became intrigued by the strategy in 1992 when he directed a summer enrichment program for children in an Atlanta public housing development that was one of the first in the nation to be transformed into a mixed-income neighborhood. Joseph later spent years studying the redevelopment of high-rise public housing towers in Chicago—research that culminated in his co-authored book Integrating the Inner City, to be published this year by the University of Chicago Press.
"I saw firsthand how mixed-income housing offered a compelling opportunity to address inequality. Low-income families were living in beautiful housing complexes in neighborhoods where revitalization had led to a drastic decrease in crime and a notable increase in investments in local amenities," said Joseph. "It also was clear that these efforts could have greater impact if equipped with the latest research and insights about successful developments."
Nearly two years ago, Joseph and Taryn Gress (SAS '11) launched the National Initiative on Mixed-Income Communities (NIMC) at the Mandel School. The center's mission is to serve as the leading source in the United States for research and expertise on mixed-income communities.
It also serves as a central clearinghouse for the growing network of researchers and practitioners working on mixed-income housing efforts. Gress is the center's project coordinator.
In addition, Joseph and his team consult with developers, policymakers and government officials to try to help ensure these efforts are successful. They have participated in evaluations of mixed-income developments in Akron, Boston, Chicago, New Orleans, San Francisco and Seattle, and created an online database of almost 300 such projects.
"The research shows mixed-income communities could become a platform for closing the opportunity gap and creating meaningful change in disadvantaged areas," Joseph said. But while some aspects of life for low-income residents are improved, building genuine interaction and inclusion remains a challenge.
Surveys conducted by Joseph and his colleagues reveal an "us versus them" feeling among renters and condominium owners, as well as a lack of social interaction between high- and low-income residents.
To improve the social dynamics, the NIMC recommends a proactive and intentional approach to community building that includes well-managed indoor and outdoor spaces for residents to gather, effective resident associations and property managers trained to help people from different backgrounds be supportive neighbors for each other.
The next phase of Joseph's work will test financial-coaching and workforce strategies to improve the outcomes for low-income residents of mixed-income developments.
"Ending the segregation of the poor and improving the economic trajectory of low-income families is our ultimate goal," Joseph said.