launch
BEYOND THE FENCE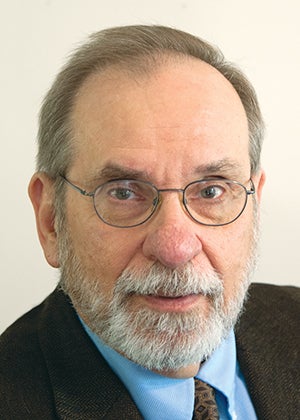 The gargoyle on Amasa Stone Chapel wasn't constructed to show disdain for Leonard Case Jr.'s atheism—and, by the way, he wasn't an atheist.
The searcher carving over the main entrance to Tomlinson Hall isn't a rebuke to the gargoyle.
But does sharing a kiss at the Unstable Tables sculpture lead to a happy marriage? Well, the jury's still out.
These are just some of the quirky campus stories shared in Beyond the Fence: A Social History of Case Western Reserve University (2014) by Richard Baznik, university historian and vice president emeritus for public affairs. (The title refers to a fence that separated the Case Institute of Technology and Western Reserve University campuses until 1948.)
The book does more than debunk myths. Using broader societal moments as guideposts, it tells the story of Case and Western Reserve as separate entities—and also of the new institution created with the 1967 federation.
Through more than 10 years of research and writing that included 300 interviews, Baznik unearthed details he'd never heard in his own 47-year career.
"I don't consider myself the truth squad," Baznik said, "but if there's information out there, I want to make sure people know it."