discover
TACKLING FACIAL PAIN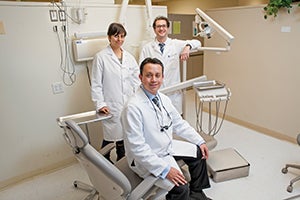 photo: Mike Sands
It was a typical day at a new Case Western Reserve dental clinic, where specialists led by Andres Pinto, DMD, MPH, handle puzzling cases of facial pain that referring doctors can't resolve.
In one room, a 32-year-old Cleveland woman who could barely move her face a few minutes earlier smiled and thanked Pinto for a shot of anesthesia that numbed the stinging twinges in her jaw and cheeks. Across the hall, a 44-year-old car crash survivor from Cleveland sought sleeping advice while she healed from facial fractures. Later, a retiree from Youngstown came for a follow-up appointment, relieved his mysterious mouth sores were disappearing with treatment.
"Usually patients suffer at least a year and a half before coming to us because so few doctors are trained to diagnose their conditions," said Pinto, an associate professor of oral medicine, chair of the Department of Oral and Maxillofacial Medicine and Diagnostic Sciences at the School of Dental Medicine, and an attending doctor at University Hospitals Case Medical Center. "Our clinic brings together the [dental medicine] field's four diagnostic disciplines: radiology, pathology, facial pain and oral medicine. It's a one-stop shop found in only a handful of places in the country."
The dental school recruited Pinto nearly two years ago to expand its focus on the growing field of oral medicine and facial pain—in research, education and diagnosis. Since then, he has led the merger of two departments into one; overseen the development of a new course on the connection between dental and general medicine; recruited two oral and maxillofacial specialists—one in pathology and the other in radiology; and launched the Oral Medicine and Orofacial Pain Clinic, inviting a colleague already at the dental school to also join the team.
The new initiatives represent a more expansive vision of dentistry.
"We believe [dental medicine] will be a larger force in health care to treat conditions we're still searching to understand," said Pinto, who previously was a researcher, faculty member and clinician at the University of Pennsylvania. "Our work can contribute to the future of dentistry and the direction our profession will go."
At the pain clinic, Pinto and his colleagues see patients who have traveled from as far as Louisiana to seek expert treatment and relief. All were referred by other doctors.
The problems range from burning mouth syndrome (Pinto's specialty) to oral tumors; from severe headaches to facial movement disorders. The clinic's challenge may be to pinpoint the actual source of excruciating pain or identify the ugly red mass protruding from a patient's gums. Diagnosis can be complicated and painstaking.
Pinto and his colleagues meet weekly to strategize about how best to treat patients. For example, in one case of extreme facial pain, X-rays and advanced medical imaging taken at the clinic revealed bone deformities in a patient's face and a mass in the soft tissue of her neck that other doctors hadn't seen.
"We bounce ideas off each other and provide real-time feedback on challenging cases," said Pinto. "The real difference in our clinic is that we bring together the different disciplines. It's rare in dentistry to have everyone in the same room."