launch
A BUMPER CROP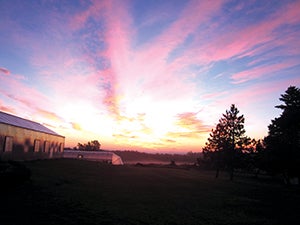 photo: Corinne Burr
The University Farm has played many roles in its 77-year history: research station, recreation destination and classroom. But it didn't harvest its first crop of fruits and vegetables until 2010.
Today, it is part of the burgeoning movement to produce sustainably grown local food. The farm sells crops to customers ranging from Case Western Reserve's food-service provider—Bon Appétit Management Co.—to the Cleveland Metroparks Zoo, donates produce to food pantries and teaches children about nutrition, among other activities. Ten miles from campus, it is accessible via a farm bus for members of the university.
"Helping Northeast Ohio access fresh healthy food is now woven into everything we do," said Ana Locci, PhD (GRS '85, '88, biology), the farm's director since 2000.