launch
VOCAL FUSION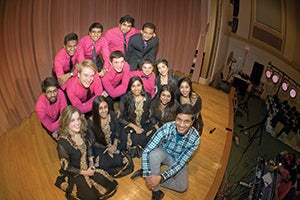 photo: John Quinn
In 2005, 11 Case Western Reserve students organized an eclectic a cappella group for what they expected would be a one-night performance. But their fusion of South Asian and Western styles—think contemporary cinematic Indian music meets Beyoncé and the Beatles—resonated with audiences and a succession of student singers at the university.
Today that group, Dhamakapella, is a campus fixture. It recently released its second album—Naya Zamana/Welcome to the New Age—and has sung and danced its way to top spots at contests for university students performing South Asian a cappella music. A video for the album's first single, "Radioactive/Dil Se," garnered more than 16,000 YouTube views in its first two months.
"We're hoping our new album will help make the public more aware of our genre," said Sahaana Sridhar, president of the 14-member group and a senior from Plainsboro, N.J., majoring in biochemistry. "Our songs try to push a cappella in a different direction—more edgy, modern and global."
The music is intricate and layered. The singers weave together lyrics and music from multiple songs and mimic electronic and percussion sounds, creating striking moments of dissonance and harmony.
"The idea is to have our performances emerge as a new piece of art distinct from the original songs that inspired them," said Mayank Prasad (CWR '09), who as a sophomore, co-founded Dhamakapella (the Hindi word "dhamaka" means a chaotic, resounding noise). Now a lawyer in New York City, Prasad returned in February for an on-campus concert celebrating the group's 10th anniversary and performed along with other alumni and current members in the final number.
Members come from as far as Goa, India, and as near as North Canton, Ohio; their majors include chemical biology, engineering and Spanish literature. Some grew up singing traditional and modern Indian music, while others encountered it for the first time on campus.
First-year student Brad Schissel was lured by the idea of blending Hindi and English.
"Toggling between two very different languages of music and voice stretches me as a singer," said Schissel, who is from the Milwaukee area and is majoring in biophysics.
For the 10th anniversary concert, the playlist included songs from throughout the group's history, many of them arranged by alumni, such as Prasad, who have remained involved.
"We have come so far from our first practices in the lobbies of our dorms," Prasad said. "It was an honor for all of us to see a decade of effort come to fruition and pave the way for the future."