discover
WELCOME SIDE EFFECTS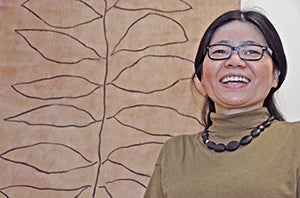 photo: Roadell Hickman
Rong Xu is a pharmaceutical sleuth. Using computer programs and medical data, she works to uncover new ways to use 6,000-plus existing drugs as treatments for as many as 100,000 known diseases.
"Connections between medicines and diseases are often hidden from us," said Xu, PhD (GRS '98, biology), assistant professor of medical informatics at Case Western Reserve School of Medicine. "Data provides clues, and my job is to connect the dots."
In 2014, Xu was one of just 50 U.S. researchers to receive a National Institutes of Health Director's New Innovator Award. The grant, which comes with nearly $2.4 million in funding over five years, recognizes and supports promising investigators early in their careers.
Xu developed custom algorithms to extract data from about 22 million medical journal articles about positive outcomes of drugs prescribed for another purpose.
"Right now, it is serendipity that drugs on the market have been discovered to have benefits other than those for which they were initially developed," Xu said.
That was the case with Finasteride, a drug that Merck formulated to treat enlarged prostates that the U.S. Food and Drug Administration had approved for male pattern baldness.
"Nobody says that a drug can only treat one disease. The truth is, we don't really understand a lot about some drugs and diseases," Xu said. "With computer science, the process for discovering additional benefits can be automatized."
Xu and her research partners will use the data collected to generate and test hypotheses about new uses for existing drugs. They plan to focus on diseases that have few, if any, treatments, such as schizophrenia and certain aggressive cancers and neurological disorders.
"In some cases, we may be able to skip years of testing because we already know these drugs are safe," she said.